A guide to Parramatta River
Discover the history and how you can spend time in, on, above or beside the centrepiece of Parramatta. 
After all, the river, which runs for fourteen kilometres from west to east, is the Harbour's main tributary. Plus, its headwaters are smack bang in the middle of Sydney's metropolitan area — in a tranquil, grassy spot behind Cumberland Hospital.
There are many ways to spend time in, on, above or beside Parramatta River. While fitness fanatics can get their fix on cycleways and footpaths, history buffs have the waterway's rich heritage to explore. For foodies, there are outstanding restaurants and, for culture vultures, Riverside Theatres hosts an array of artsy happenings. This guide is a springboard for watery adventures.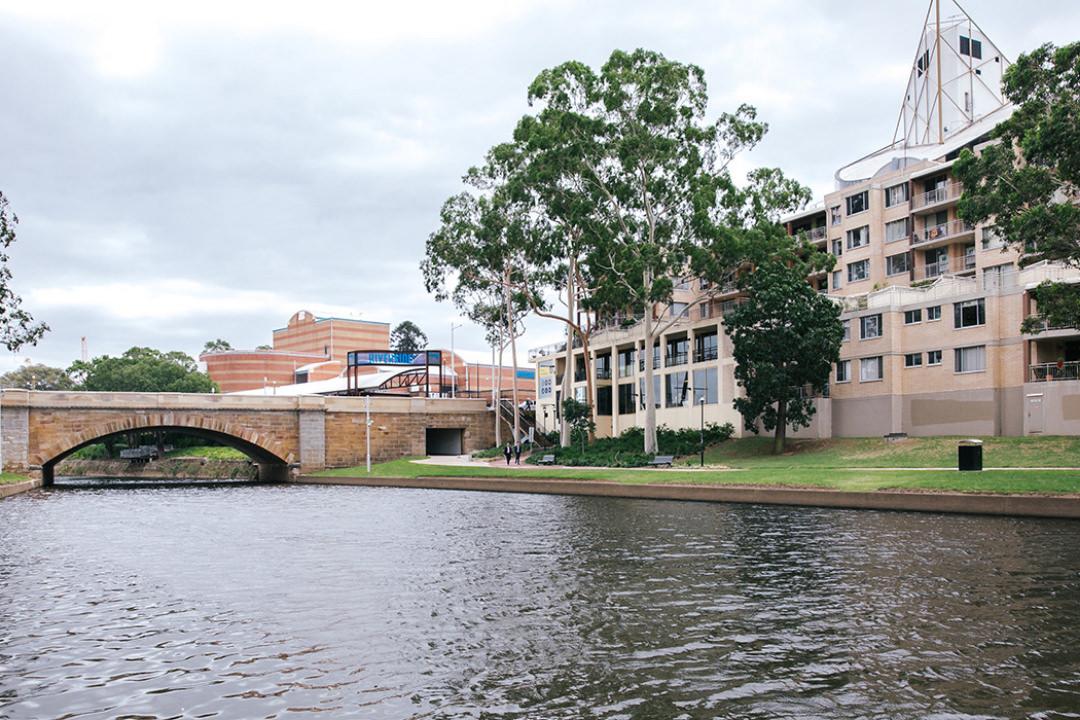 History and Heritage
For at least 40,000 years, the Burramatta people, a local Indigenous clan of the Darug Nation, lived on Parramatta River's banks, feasting on oysters, yams, mullet and, of course, eels. In fact, the word "Burramatta" can be loosely translated as "the place where eels lie down". Right near Parramatta Wharf, fresh water, flowing downstream, meets salt water, creating a perfect place for eels to breed and thereby making them easy targets for hunters. Today, the Burramatta people remain the area's traditional custodians.
However, in 1788, Governor Arthur Phillip turned up in a boat, searching for fertile soil. Armed with guns, he set up New South Wales's second British settlement — the first being Sydney Cove. The invasion led to cultural clashes, fierce fighting and the spread of disease, disrupting the Burramattagal clan's ancient way of life.
Today, Indigenous murals on the Parramatta River Foreshore Reserve interpret these—and later—events. They are the creations of Ngemba artist Jamie Eastwood. It's also possible to retrace Governor Phillip's journey via a 3.5-kilometre long, signposted walk.
Other important sites along the river include Old Government House, a two-storey Georgian manor that served as a country residence for governors between 1800 and 1847; Lennox Bridge, a single arch, sandstone bridge built by convicts in the 1830s; Parramatta Female Factory, where the colony's unassigned women lived and worked, often in slave-like conditions; and the Female Orphan School, which later became a psychiatric hospital.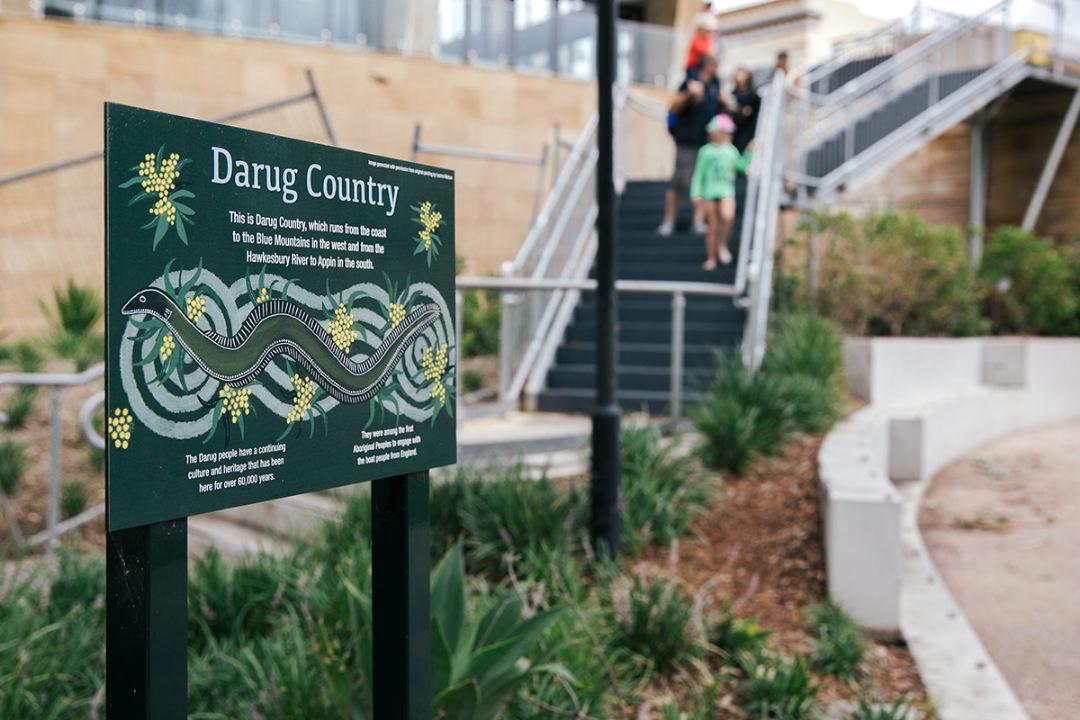 The Great Outdoors
Sadly, until 1970, Sydney's industry used Parramatta River as a dumping ground. Some areas, such as Homebush Bay and Iron Cove, still battle against contamination with toxic chemicals and heavy metals. However, the story isn't all bad — mainly thanks to an organisation called the Parramatta River Catchment Group. They've made Lake Parramatta clean enough for swimming and hope to achieve the same for the river by 2025. In the meantime, their efforts are reviving local wildlife — from water dragons to cockatoos to grey-headed flying foxes, an endangered species.
To see these and the water up-close, the best way to travel is on foot. The Parramatta River Walk runs along each bank, from the headwaters to Gladesville Bridge. Another option is to jump on a bike and conquer the 20-kilometre long cycle path between Parramatta and Sydney Olympic Park.
Meanwhile, for anyone who wants to travel without too much exertion, there's the ferry, which journeys all the way to Circular Quay several times each day. Passengers can complete the 90-minute trip in one go or disembark at various points of interest, such as Sydney Olympic Park, where the 2000 Olympics were held; and Cockatoo Island, a UNESCO World Heritage listed site that, in the 19th Century, was a convict prison and then a shipyard. These days, it's a tourist destination, where visitors can camp or glamp overnight in tents overlooking Sydney Harbour.
Eating and Drinking
Parramatta River's natural beauty has inspired many a restaurateur to open nearby. One of the most recent additions is ALEX&Co., a 350-seater restaurant with a bar overlooking the water. There's even a dedicated signature cocktail called The Riverside (dill-infused gin, chamomile, white chocolate, lemon, bitters, absinthe mist). Meanwhile, a Middle Eastern feast is on the agenda at Sahra by the River, where the Alamein family has been serving Lebanese food and entertaining diners with belly dancers for over a decade. Recently, they added a new feature to their menu: Taco Arrabe, a Lebanese twist on the taco that originated in Pueblo, Mexico.
At Parramatta Wharf, there's Port Bar. For 14 years, locals and visitors have been coming here to linger over Mediterranean and Modern Australian dishes, while soaking up 180-degree river views and watching ferries come and go. There are 24 beers on tap and a solid cocktail list focused on classics.
Delving into the Arts 
The Riverside Theatres, a trio of performance spaces on Parramatta River's north bank, near Lennox Bridge, have provided the City with an arts hub since 1988. The diverse, dynamic program covers drama, dance, live music, film, experimental performances and community events. Several of Sydney's arts companies, including Sydney Theatre Company and Belvoir Street Theatre, bring their shows here, as do touring artists from all over the world.       
On New Year's Eve, families and friends gather around the river to watch extraordinary firework displays. Between 6pm and 9pm, Parramatta Park is the centre of the action, with live music, roving performers, dance shows, rides and food stalls — all for free. In January, Sydney Festival arrives, bringing with it circus acts, theatre, art installations, music and Indigenous performances.
Every July, Burramatta Family Day takes place on Parramatta River Foreshore during NAIDOC (National Aboriginal and Islander Day Observance Committee) Week. Thousands of people flock to experience — and learn more about — Indigenous culture, through dance, music, walking tours, workshops and food.