Family Fun Guide to Movie Night in Parramatta
Planning movie night with the kids? Read our guide for a fantastic movie night in Parramatta, including places to eat before or after the film.
Parramatta is a family-friendly city full of indoor and outdoor activities that are great for kids of all ages. You can spend the school holidays and weekends making fun family memories as you explore the city and try new things.
One timeless favourite is going out to watch a show. Netflix is great, but it doesn't hold a candle to seeing it on the big screen!

Luckily, Parramatta has a few different venues for live theatre and cinema. For your next movie night, here is a guide to movie cinemas in Parramatta:
Riverside Theatres
Riverside Theatres is much more than your standard theatre – it's the largest performing arts venue in Western Sydney, hosting around 750 performances and events each year. From recent films to old favourites, from independent films to kid's classics, the schedule is always packed with great options.

Along with family-friendly films, Riverside Theatre also offers Children's Theatre seasons with hand-picked productions for kids. They also keep the parents in mind when picking the season's line-up, showcasing only the best to make sure kids and adults alike enjoy the show. 

If your family is looking to experience live theatre, Riverside Theatre also has live performances on stage. Check the schedule regularly to stay on top of the line-up and secure your tickets before the show sells out! 
The theatre is located between the Parramatta River and Prince Alfred Square on Market Street. If you walk across the bridge, you'll find plenty of restaurants perfect for families. The choices are endless - from pizza at MAMA & PAPAS to traditional souvlaki at SouvLucky.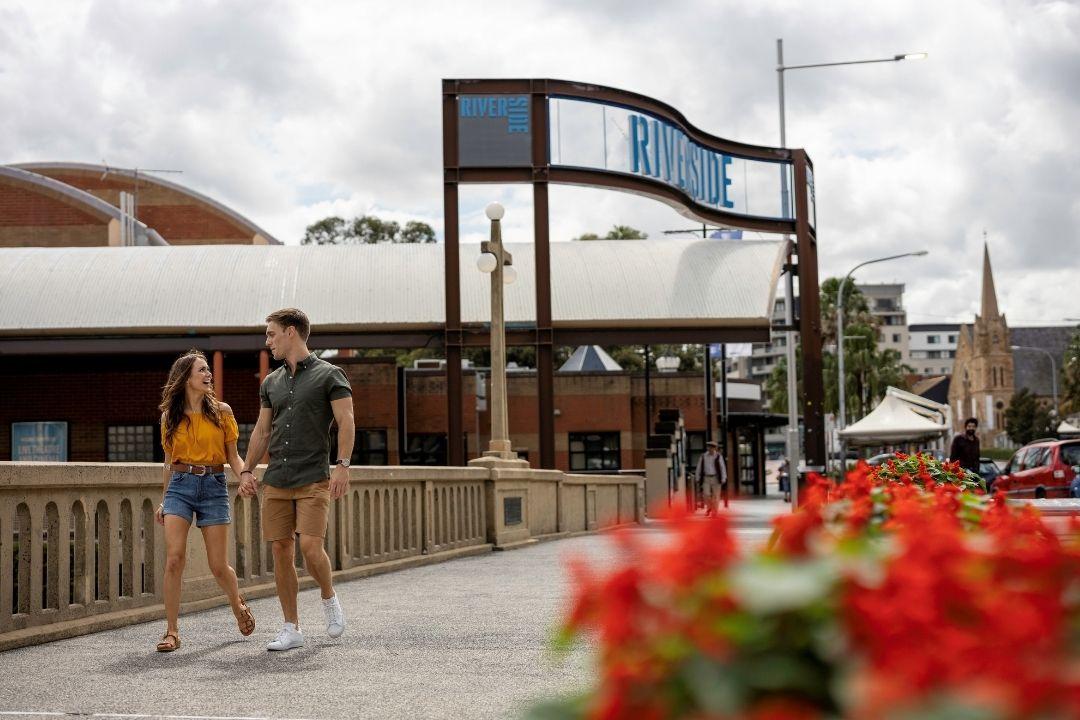 Events Cinemas
Event Cinemas is a classic movie theatre with a premium experience. It's located within Westfield Parramatta and shows the latest and greatest from Hollywood.
Event Cinemas offers Family Saver Sessions that let you save on family movies. They also have a special Grandparents Pass for senior members with a Cinebuzz membership. If you're looking for a family outing over the weekend, check out their Weekend Family Flicks deals.

There are plenty of places for you to grab a meal before the show starts in Westfield. You can choose from one of the many restaurants nearby or head to the food court where everyone can pick their own dish. Some favourites include Flipp Burgers, and Salsa's Fresh Mex Grill.

After the movie, you can walk to Rivareno Gelato to end the night on a sweet note.
Disney + Drive-in at CommBank Stadium
For all the Disney fans out there – keep your eyes out for the Disney+ Drive-in presented by Openair Cinemas at CommBank Stadium. You can share the excitement of drive-in theatres with your kids as they experience Disney, Pixar and Marvel classics in a whole new way.

Tickets are priced by car, making it a fun and affordable spin on the movie cinema experience. If you're worried about how good a movie could be without food – they have you covered! Not only is there a kiosk onsite selling popcorn, confectionery, and soft drinks, but they've also partnered with the food delivery platform DoorDash. This means you can order whatever you want, and the staff will take it straight to your car bay for you.

It is worth noting the movie audio will be supplied via an FM transmitter, so all cars need to have a radio in the car. Radio apps won't pick up the frequency, so it needs to be a physical radio. The one built into your car will work great, or you can hire a portable radio onsite for $20.
What to do before or after the movies
Movies are only one of many family-friendly activities in Parramatta. You could also pair a second activity after watching a movie to have a themed weekend! For example, if your kids are keen to join the circus after watching Dumbo, take them to Circus Arts. There are many classes for them to learn new skills like flying trapeze, juggling, pyramids and hula hoops.

If your kids recently watched Robin Hood and are looking to join his band of Merry Men, take them down to the Archery Centre in Olympic Park. For any little one taken with the sport, put them in one of the school holidays courses to really hone their skills.

Parents with older children who like action and thriller movies can take their kids to experience the Labyrinth Escape Rooms. Another competitive option for some adrenaline-inducing fun is laser tag at Code Red Laser. The teamwork needed to solve the puzzle in the escape room and dominate the competition in laser tag will create some exciting memories. These are also great activities for birthday parties!
For a more extensive list of kids activities, check out 10 outdoor activities to keep the kids entertained.