6 go-to skateboarding spots in Parramatta
If you're looking to discover new skateparks for kids and different obstacles for them to try, here is a list of 6 go-to skateboarding spots in Parramatta.
The City of Parramatta Council is dedicated to making this area of Sydney the best place to raise a family. They are investing in creating a space with everything you need, which includes having a lot of green spaces and reserves for families to enjoy. 
While there are many outdoor adventures you can experience nearby, parks are a year-round favourite. This includes not just traditional playgrounds but water playgrounds and skateparks designed around skateboarding for kids.
Some green areas are hidden or tucked away throughout the city, making it easy to miss a few. If you're looking to discover new skateparks for your kids and different obstacles for them to try, here is a list of 6 go-to skateboarding spots in Parramatta. 
 
Parramatta Skatepark
Parramatta Skatepark is a short walk from the CBD, bus interchange and train station. It's located in the James Ruse Reserve on Harris Street near the Robin Thomas Reserve. The popular skatepark has half pipes, a funbox, grind rails, and a 9-foot bowl. 
The reserve also has a large water playground with water fountains, jets and sprinklers. Thanks to plenty of shade cloth and a non-slip surface in the water area, it's a great way to cool off in the summer. 
There are also BBQ facilities and a playground for all-day entertainment.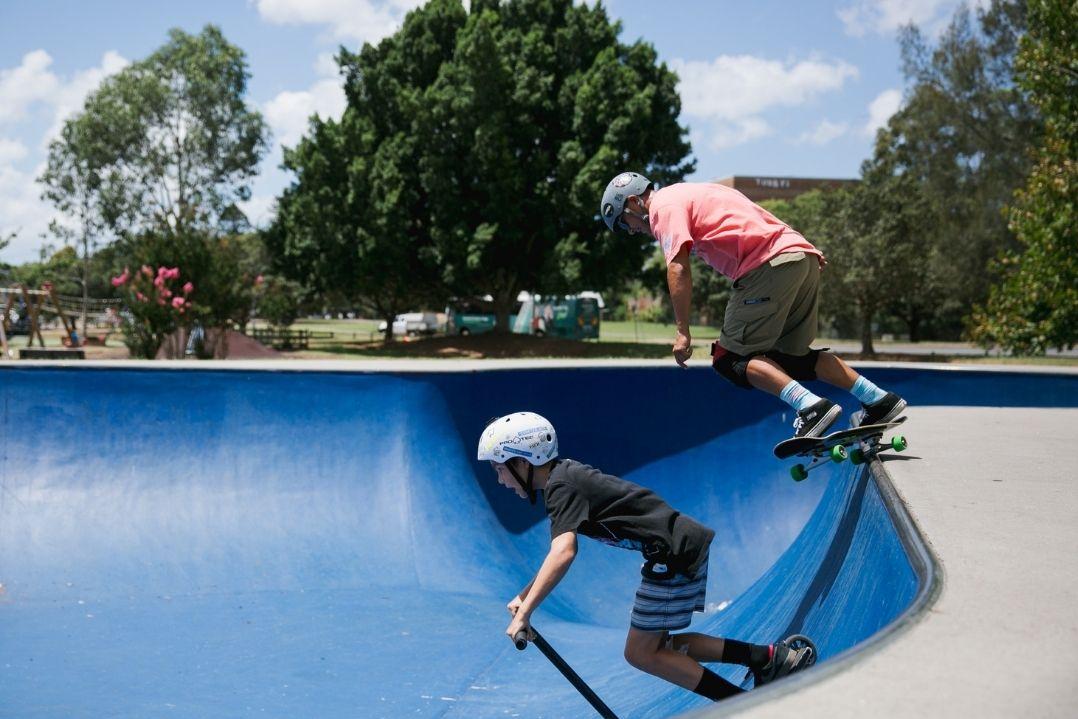 Telopea Skatepark
This skatepark is within Sturt Park near the Telopea Public School on Sturt Street, just off Kissing Point Road. It's near multiple bus routes and is within walking distance from Telopea train station. Here you'll find quarter pipes, banks, grind rails, a funbox, and a mini bowl.
Along with a skatepark, Sturt Park also has a full-size basketball court, a cricket batting cage, a football oval, and a playground. Between the skatepark and playground, you'll find BBQs and picnic tables. There are also toilets on-site near the football field. 
Carlingford Skatepark
The Carlingford Skatepark is in the John Wearn Reserve on Farnell Avenue. There are multiple bus routes near the skatepark and a car park by the playground. Skateboarders are in for a treat at this generously sized skatepark designed and built by Convic. Here they'll find street obstacles like ledges, rails, and banks, as well as a funbox, bowl and quarter pipes. 
Along with the skatepark, there's a multi-use court, stage and amphitheatre, multiple areas for dogs to run around off-leash, fitness equipment and a playground. The reserve was recently upgraded, and now the playground has new equipment. Kids can enjoy this safari-themed area with animal statues scattered throughout the play area. The park also has BBQ facilities and toilets nearby.
West Epping Skatepark
West Epping Park is near the Epping West Public School and YMCA off Midson Road across from Hillcrest Avenue and Delaware Street. This fun outdoor skatepark has a quarter pipe, ledges, flatbars, grind rails, a funbox and ramps.
Near the skatepark is a large playground area. There are slides, swings and a rope tower to keep kids entertained for hours. The bravest kids can try the giant slide at the top of the rope tower. For the little kids, there is a shaded playground area more suited for toddlers. 
Next to the nearby YMCA there's a full-size basketball court. You can also find a couple of table tennis tables and picnic tables for games. 
Granville Skatepark
The Granville Skatepark is a short drive south of Parramatta and within 500 metres from Merrylands train station, which is only two stops from Parramatta station. The skatepark is on the east side of the park, closer to Woodville Road. Though this is one of the smaller skateparks, skateboarders can still test their skills and practice tricks on quarter pipes, banks, rails and boxes. 
Within the park, you'll also find a water playground and basketball court. The Laurie Ferguson Water Playground has activities for kids of all ages. Next to the water playground is a traditional one with synthetic grass. This is best suited for smaller children with swings, climbing areas, rope ladders and a handful of other activities to keep everyone busy.
Monster Skatepark
If you want to go to a park that will make both child and adult skateboarders excited, head to the Monster Skatepark in Sydney Olympic Park. Not only does it have both indoor and outdoor courses, but it is also the only international ramp facility in Australia. The facilities there cater to all levels of skateboarders and BMX riders. There are street courses, as well as heaps of ramps and other obstacles for you to try.
There are also skateboard, scooter, and BMX lessons available at the skatepark. Visit the Monster Skatepark website to learn more and book a session.
The skatepark is located near the Sports Halls and Sydney Showground and is within walking distance from Olympic Park train station.