Celebrating 60,000 years of culture
Warami is a Dharug word meaning 'good to see you'. City of Parramatta's Warami welcomes all to help celebrate First Nations culture and commemorate significant dates for Aboriginal and Torres Strait Islander people and the Dharug community. Events take place across the city from 26 May to 10 July.
10.30am - 5pm
Sunday, 10 July
Pavilion Flat, Parramatta Park
In partnership with Greater Sydney Parklands
Free Event
Get Up! Stand Up! Show Up!  for NAIDOC celebrations in 2022.
NAIDOC Week (3 – 10 July) is an opportunity for all Australians to learn about First Nations cultures and histories and the City of Parramatta will join the activities with Burramatta NAIDOC on Sunday 10 July.
The event is a family-friendly celebration for the whole community featuring children's workshops, market stalls, delicious food as well as some great performances by Budjerah, Castlereagh Connections, Kobie Dee, The Merindas, Tilly Tjala Thomas and more.
Nangami 'Dreaming' Colouring Book
The City of Parramatta is proud to produce this colouring book as part of its WARAMI program to share stories of history and culture through a collection of stencils illustrated by New South Wales First Nations artists Dennis Golding, Leeanne Hunter and Mikaela Cameron.
Burramatta NAIDOC Day 2019
Burramatta NAIDOC Day 2019
Watch the video wrap up from Burramatta NAIDOC Day 2019. 
NAIDOC Week 2022: Workshop for Kids
Celebrate NAIDOC Week 2022 at Parramatta's libraries with a special workshop for kids. Our friends from Koori Kinnections have prepared hands-on activities that will give you an insight into Aboriginal and Torres Strait Islander culture. You'll learn an acknowledgement song, share in storytelling, get an introduction to traditional resources, and use native plants to construct a Nowey (a canoe) which you can take home to show your family and friends. For 7–12-year-olds. Registrations open on 1 June.
More First Nations events
10am - 3pm
Thursday, 26 May
Old Government House, Parramatta Park
Free Event

National Sorry Day is a day of acknowledgement, reflection and healing, where Australians from all walks of life gather to honour the Stolen Generations.
Our local community joined us as we listened to the history and stories of Aboriginal and Torres Strait Islander people, with a smoking ceremony, performances and more.
Smoking Ceremony with Uncle Chris Tobin and dance performances by the Jannawi Dance Clan
Weaving workshops with Ngumpie Weaving
MC Neville Boney
Special performances by Evie J Willie
6pm - 8pm
Saturday, 28 May
Riverside Theatres
Yuin Byalla 'truth talking' brought together four First Nations voices who actively strengthen their communities. These voices embodied this year's National Reconciliation Week theme "Be Brave. Make Change".
Presented and hosted by Indigenous X, award-winning journalist and presenter Rachael Hocking moderated the guest panel including Vanessa Turnbull-Roberts (advocate for human and First Nations rights and reform), Luke Currie-Richardson (storyteller, artist and dancer in Muggera) and Shanaya Donovan (Dharug youth, activist and dancer in Jannawi Dance Clan).
With special performances from Muggera and Jannawi Dance Clan.
 
Scientific Partnership
Scientific Partnership
Learn the story of Australia's first cross-cultural scientific partnership, between botanist and explorer, George Caley, and Burramatagal man, Daniel Moowattin, celebrating their significant contribution to science.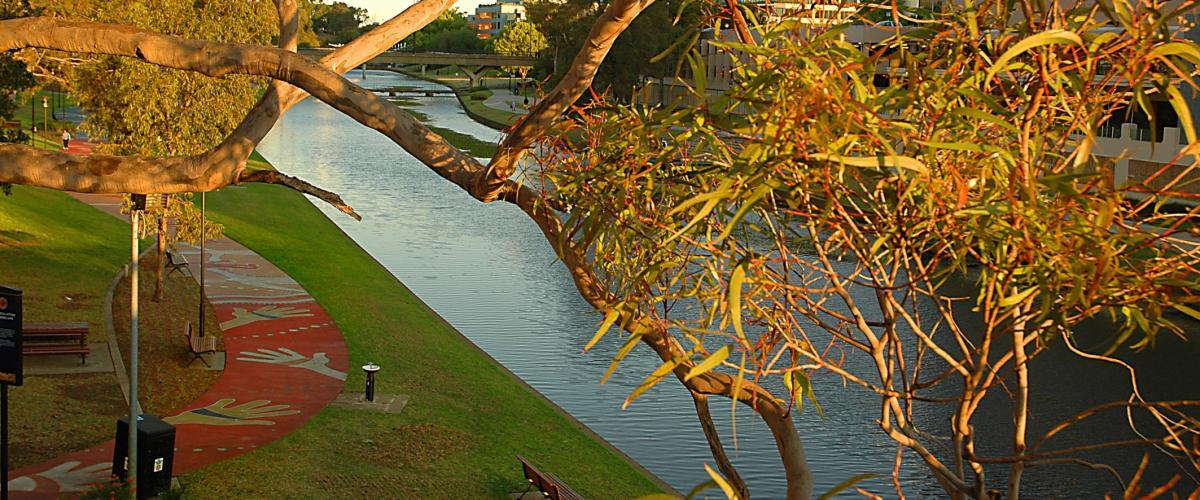 History of Sorry Day in Parramatta
On our pathway towards reconciliation, Sorry Day on 26 May is an important moment to remember the past policies of forced child removal. We reflect on the sad and painful history of the Stolen Generations and recognise moments of resilience, healing and the power of saying 'sorry'.
Baludarri, a Burramatagal man
Baludarri, a Burramatagal man
Learn about young Burramatagal man, Baludarri, who was one of the first Indigenous people to initiate trade with early settlers.
Acknowledgement of Country
For over 60,000 years the Parramatta area has been home of the Burramattagal people, a clan of the Dharug, who settled along the upper reaches of the Parramatta River. City of Parramatta respectfully recognises the Traditional Owners of the land and waters of Parramatta, the Dharug people, and pay our respects to the Elders past, present and emerging. We extend our respect to all First Nations people visiting these sites.
COVID-19
The City of Parramatta continues to manage its events in line with current NSW Health rules and restrictions in response to the COVID-19 pandemic. Any important updates to Public Health Orders and NSW Health advise will be posted here. For your own safety at our events we encourage you to maintain distance where you can, where a mask where distance cannot be achieved and maintain good hygiene with thorough and regular handwashing. Importantly, if you are unwell stay home, get tested and isolate.
Discover your backyard. Get the best of Parramatta and its neighbourhoods!