Cycling in Parramatta
Whether it's for exercise, getting around or for fun, here are five cycle routes in Parramatta. 
Get around Parramatta by bike
Whether you're jumping onto a bicycle as your preferred form of exercise, to escape peak hour traffic or to just simply pedal and explore, the cycling routes around Parramatta are a great way to get around. 
Parramatta Park
A leisurely loop around Parramatta Park that is suitable for riders of all skill levels. This route goes for about 3.2 kilometres and is relatively easy and undulating as it passes by many landmarks including historic buildings like Old Government House and the Dairy Cottage as well as the Boer War Memorial and The Crescent (a natural amphitheatre). Portions of the main track is also located along the banks of the Parramatta River, making for a leisurely riding experience. 
Within the park, Long Avenue (a 600-metre path running parallel to Domain Creek) is ideal for even less-experienced riders and kids, as it is separated from the internal road and only accessible by authorised vehicles.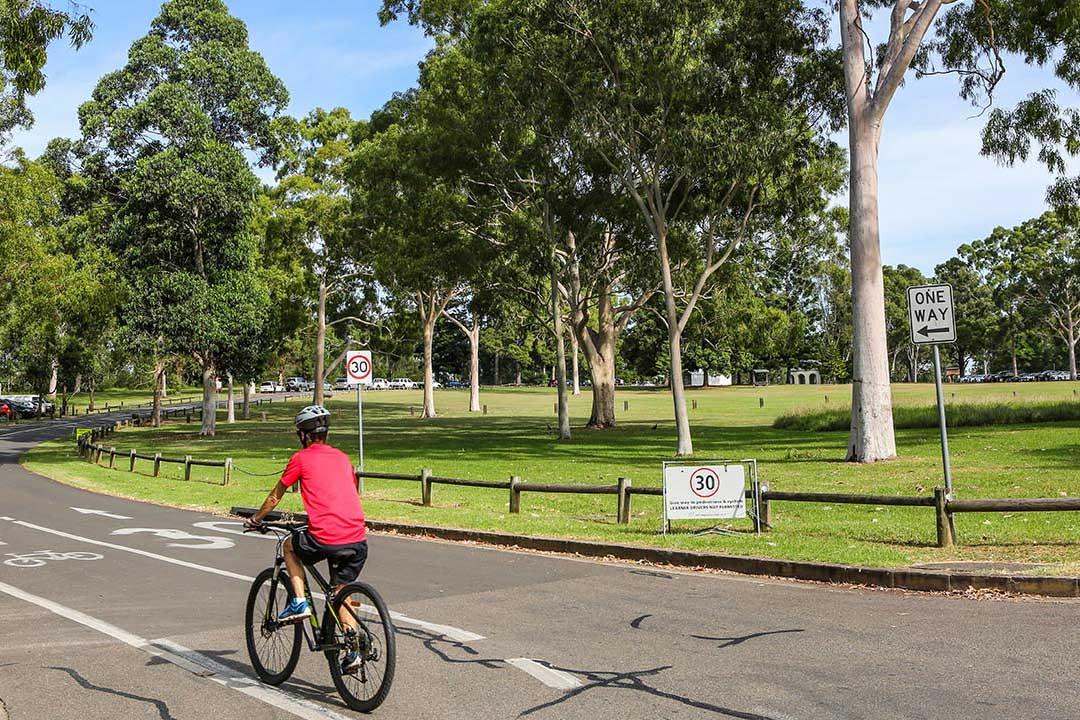 Parramatta Heritage Ride
If you're looking to uncover and learn more about this city's history, the Parramatta Heritage Ride offers a great opportunity to explore stories of years past on bicycle. 
Sign up for an official guided tour (an amazing experience) or view the City of Parramatta's Cycling and Heritage map if you fancy navigating on your own. 
One of the most popular routes starts at the Macquarie Street Gatehouse, passes by the Dairy Precinct, Jail and Old Government House and finishes back at Centenary Square and Town Hall.
Parramatta Valley Cycleway
The Parramatta Valley Cycleway is a 20-kilometre-long path shared by cyclists and pedestrians that follows the Parramatta River. Cyclists can ride the relatively flat route from Morrison Bay Park in Ryde through the Ermington Nature Reserve and along the River foreshore to the Parramatta CBD.
The Cycleway follows the River providing some pleasant outlooks, heritage buildings and nature reserves. From Morrison Bay Park in Ryde, the path heads west along a combination of dedicated bike paths, quiet streets and the river foreshore. Riders can continue to Parramatta CBD or Parramatta Park or explore the connection to Sydney Olympic Park via the Silverwater Bridge.
The cycle route is constantly being improved. Recently opened is the Escarpment Boardwalk, a river-level pedestrian and cyclist connection that delivers a missing link in the Parramatta Valley Cycleway. Riders can now stay on the northern banks of the river near the Parramatta CBD.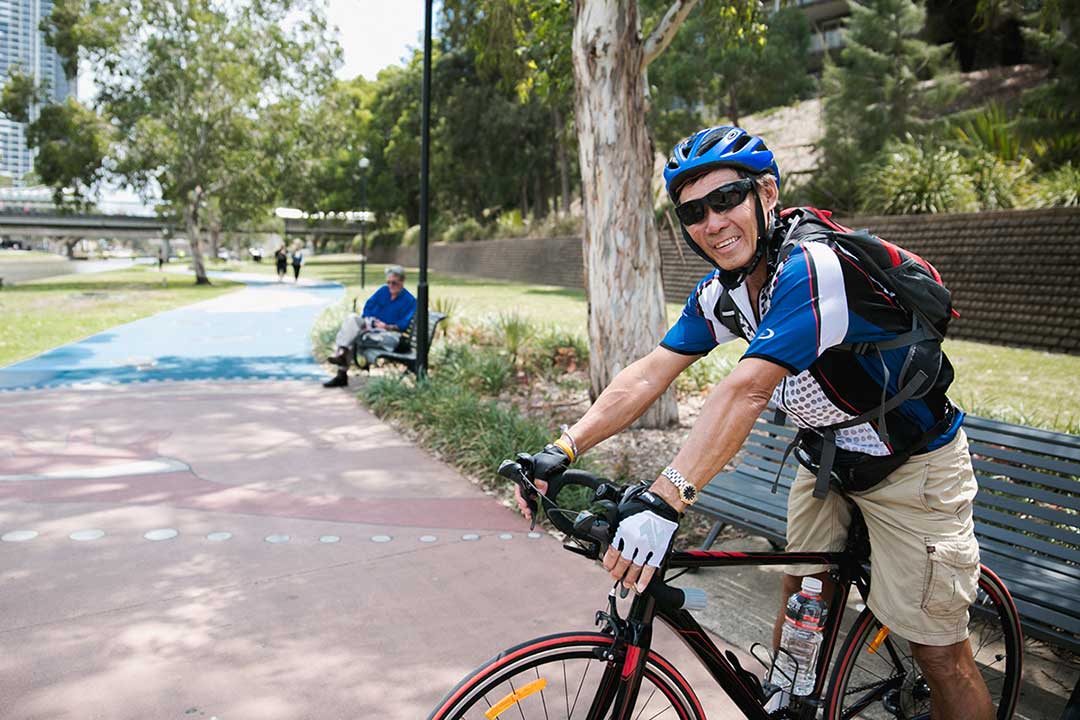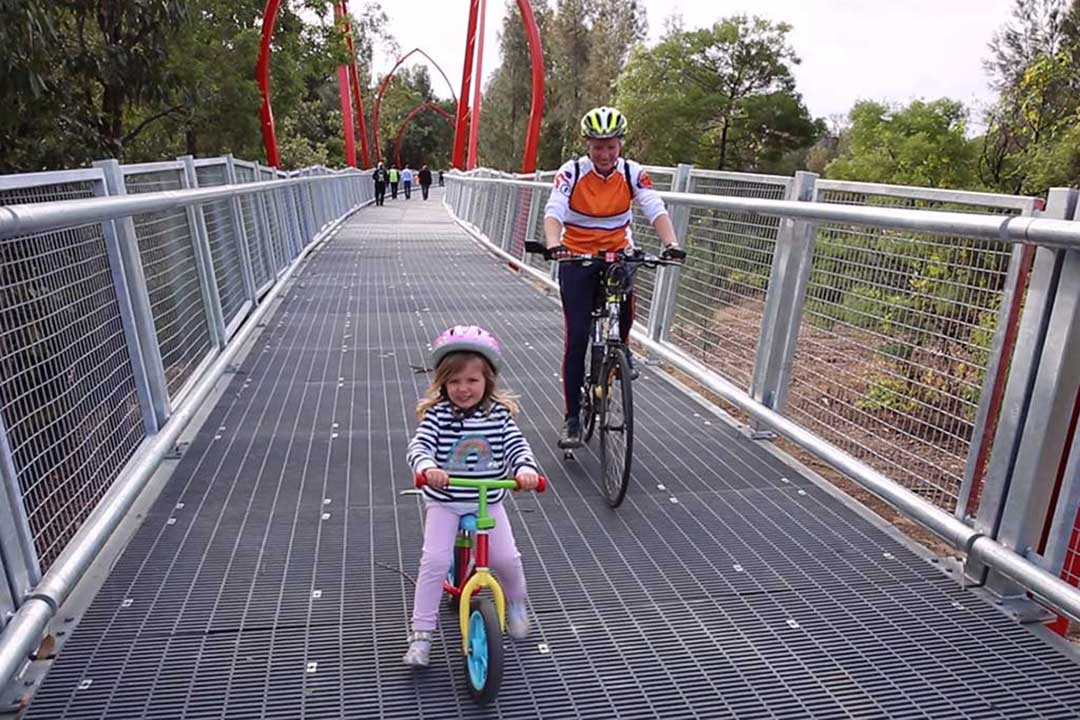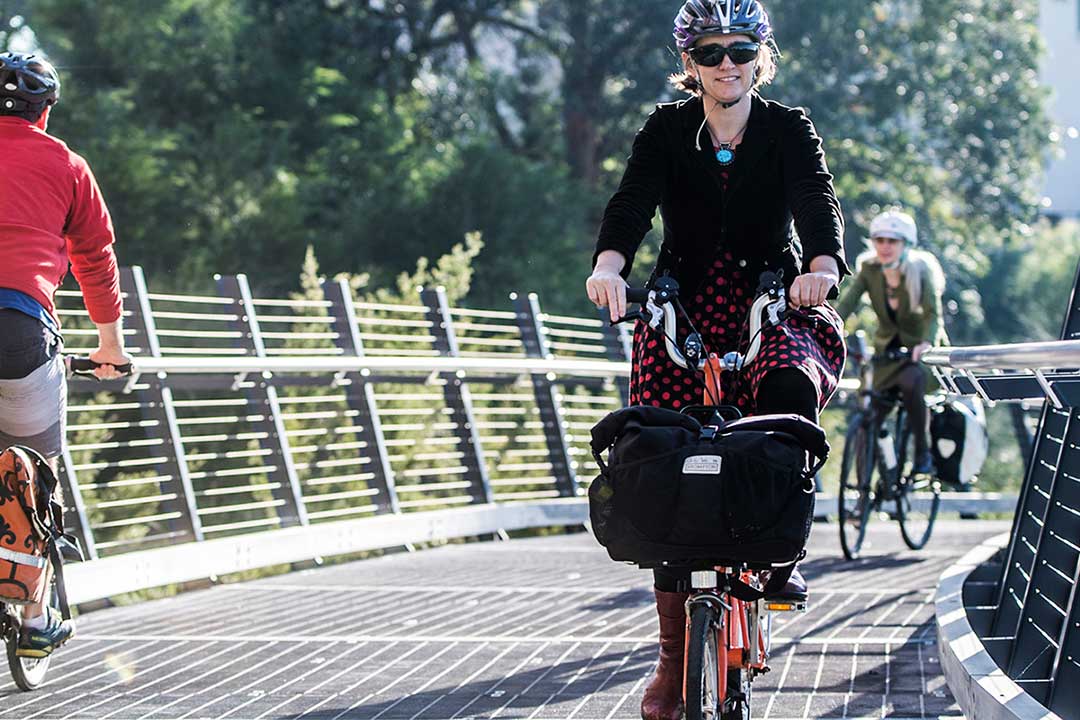 Sydney Olympic Park
One of the many legacies of the Sydney Olympic Games 20 years ago is the 35 kilometres of cycleways for bike riding within Sydney Olympic Park which are ideal for cyclists of all skill levels. The Park Authority has mapped out several circuits that are suitable for different levels of rider. Most are close to other facilities such as playgrounds, picnic areas, drinking stations and toilets. The circuits take in Olympic Games venues, bird habitat, heritage areas like Newington Armory, lakes, and great views.
Sydney Olympic Park has plenty of cafes and restaurants to make a quick stop for a coffee or even a meal.
The roads within Sydney Olympic Park also have many on-road cycle lanes for those who prefer to ride on the road, with a number of well used, relatively flat circuits.
T-Way Cycleway
An almost completely off-road cycleway that travels alongside the T-way bus route and Old Windsor Road, this bike path heads northwest through Constitution Hill, Old Toongabbie, Seven Hill and Norwest all the way to Windsor. For riders keen for a longer and peaceful day out, this might be the path for you.