2 million within 30 mins (Transport)
Parramatta is within a 30-minute reach of more than two million people across Sydney.
Sydney's Central River City
Sitting in the geographical heart of Greater Sydney is Parramatta, a City representing a cross-section of economic activity, cultural diversity and stirring opportunity. The backbone of this great City is its accessible transport infrastructure, connecting Parramatta to five major transport hubs across the region.
Parramatta is within a 30-minute reach of more than two million people across Sydney. The recently upgraded Parramatta Transport Interchange links train and bus connections under one roof, and with the future Parramatta Light Rail and Metro West only a short walk away, commuters can expect a seamless travel experience. 
With ongoing infrastructure planned through to 2023 and beyond, transport development will be the critical link that continues to connect Parramatta to the Greater Sydney region, achieving our 30-minute City vision for years to come.
Parramatta Light Rail - Stage One
The Parramatta Light Rail will connect Westmead to Carlingford via the Parramatta CBD and Camellia with a two-way track spanning 12 kilometres, and is expected to open in 2023. It will revolutionise the way workers, residents and visitors move around the Parramatta area. It will link Parramatta's CBD and train station to:
Westmead Precinct
Cumberland Precinct
CommBank Stadium
Camellia Town Centre
The new Powerhouse Museum and cultural precinct on the Parramatta River
The housing redevelopment at Telopea
Rosehill Gardens Racecourse 
Three Western Sydney University campuses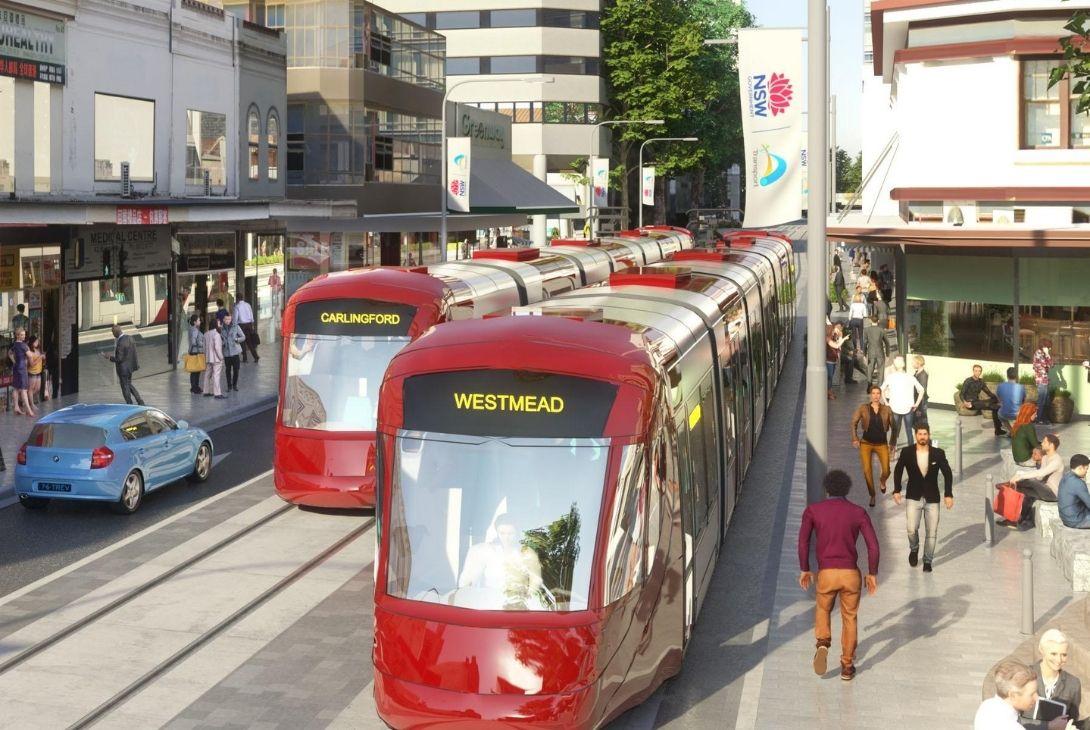 Parramatta Light Rail - Stage Two
Stage 2 of the Parramatta Light Rail will connect the Parramatta CBD to Ermington, Melrose Park, Wentworth Point and Sydney Olympic Park. It will also connect to Sydney Metro West, the heavy rail in Parramatta and Sydney Olympic Park, and ferry services at Rydalmere and Sydney Olympic Park.
Sydney Metro West Railway Project
The Sydney Metro West project is a new underground metro railway that will connect the Parramatta and Sydney CBDs. The NSW Government has committed $6.4 billion over 4 years to the project. The new metro railway will:
Double rail capacity between these two areas
Link new communities to rail services 
Unlock housing supply and employment growth between the two CBDs
Likely have stations at Parramatta, Westmead, Sydney Olympic Park, North Strathfield, North Burwood, Five Dock, Bays Precinct and the Sydney CBD.
This route was selected because more travel services are needed between Parramatta and the Sydney CBD. An extra 420,000 people are expected to move into the corridor between Greater Parramatta and Central Sydney over the next 20 years. More than 300,000 new jobs are expected to be created by 2036 in this corridor which includes the Parramatta CBD, Sydney Olympic Park and the Bays Precinct.