Metro West connects Parramatta to Sydney
The Sydney Metro West project will connect the Parramatta and Sydney CBDs. This extensive project will transform the way the City is connected.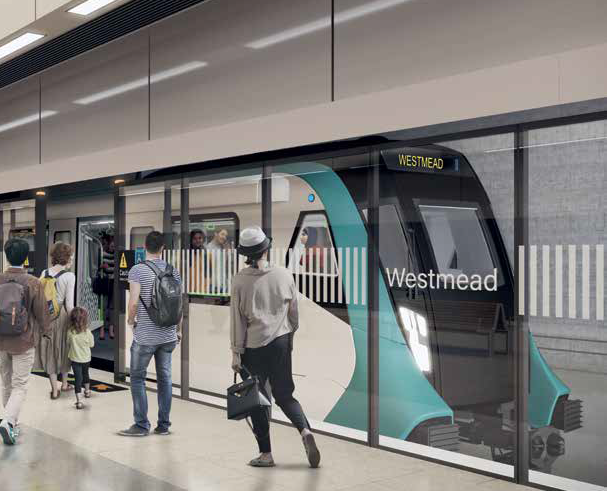 Sydney Metro West Railway Project
The Sydney Metro West project is a new underground metro railway that will connect the Parramatta and Sydney CBDs. The NSW Government has committed $6.4 billion over 4 years to the project. The new metro railway will:
Have a target rail travel time of 20 minutes between Parramatta and Sydney's CBD
Double rail capacity between these two areas
Link new communities to rail services 
Unlock housing supply and employment growth between the two CBDs
Be fully air-conditioned and fully accessible with lifts and level access between trains and platforms.
Have stations at Westmead, Parramatta, Sydney Olympic Park, North Strathfield, Burwood North, Five Dock and The Bays. Further planning is underway to determine the location of the Sydney CBD station and Pyrmont station.
This route was selected because more travel services are needed between Parramatta and the Sydney CBD. An extra 420,000 people are expected to move into the corridor between Greater Parramatta and central Sydney over the next 20 years.
More than 300,000 new jobs are expected to be created by 2036 in this corridor which includes the Parramatta CBD, Sydney Olympic Park and the Bays Precinct.
A glimpse of Parramatta's future Metro West station

See what the future Civic Link and Parramatta Metro Station will look like
Take a virtual tour of the future Civic Link and Parramatta Metro Station. This game-changing local infrastructure will unlock the region's potential and increase connectivity and opportunity for growth between Parramatta and Sydney city.
Standing room only 
The growth of the region means the existing T1 Western Line will be severely overcrowded by the early 2030s. The NSW Government will also safeguard the ability to extend Sydney Metro towards the west beyond Westmead and possibly to the new Western Sydney Aerotropolis.
Transport
Current projects and future transport is being rolled out now to meet the expected population of 400 thousand in Parramatta by 2036.