Parramatta by Foot
Back in 2020, City of Parramatta commissioned local Western Sydney artists to install temporary artworks across Rosehill Ward, to surprise and delight the community, on their daily (and much needed) walks, during the midst of Covid-19 lockdown. 
We are excited to welcome 'Parramatta by Foot' 2.0! 
After the success of the first phase of pop-up art throughout Rosehill ward, City of Parramatta has rolled out a second instalment of Parramatta by Foot. Curated by Parramatta Artist's Studio, Parramatta By Foot assembles some of Western Sydney's best emerging artists and challenges them to create footpath art reflecting the rich diversity of the local community. So get out and about and have a look at what our artists have come up with. 
Artwork will be on display until 30 June 2022. View the map to find all the locations.
Stage 2 (on display until end of June 2022)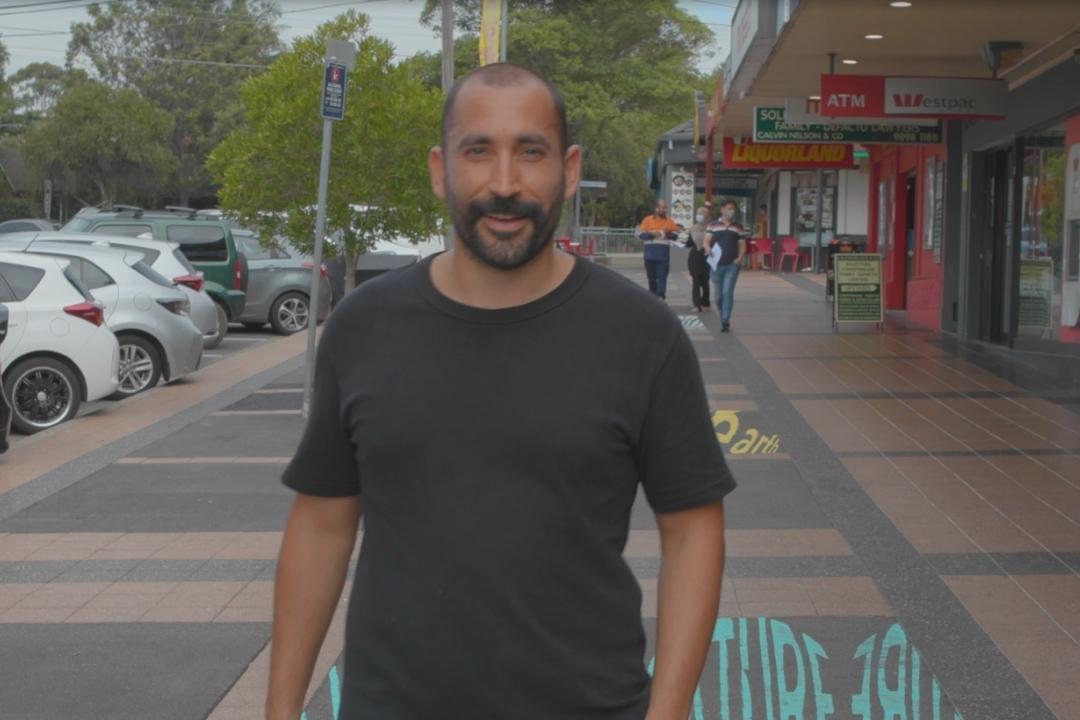 Betty Cuthbert Shops, Ermington
Artist: Tarik Ahlip
Tarik Ahlip's 'Second Nature' is a short series of aphorisms drawn from the natural world. We say something is "second nature" when it becomes familiar to point of being taken for granted. Tarik was drawn to the Betty Cuthbert Avenue shops in Ermington because it is a site the whole community depends on, and its value lies more in its utility than its scenic qualities. The exchanges that take place here support life in ways that are fundamental. The works are painted in an anamorphic style which is a method used to deploy imagery and text on road surfaces and on pitch sports advertising, meaning they are best viewed at a distance.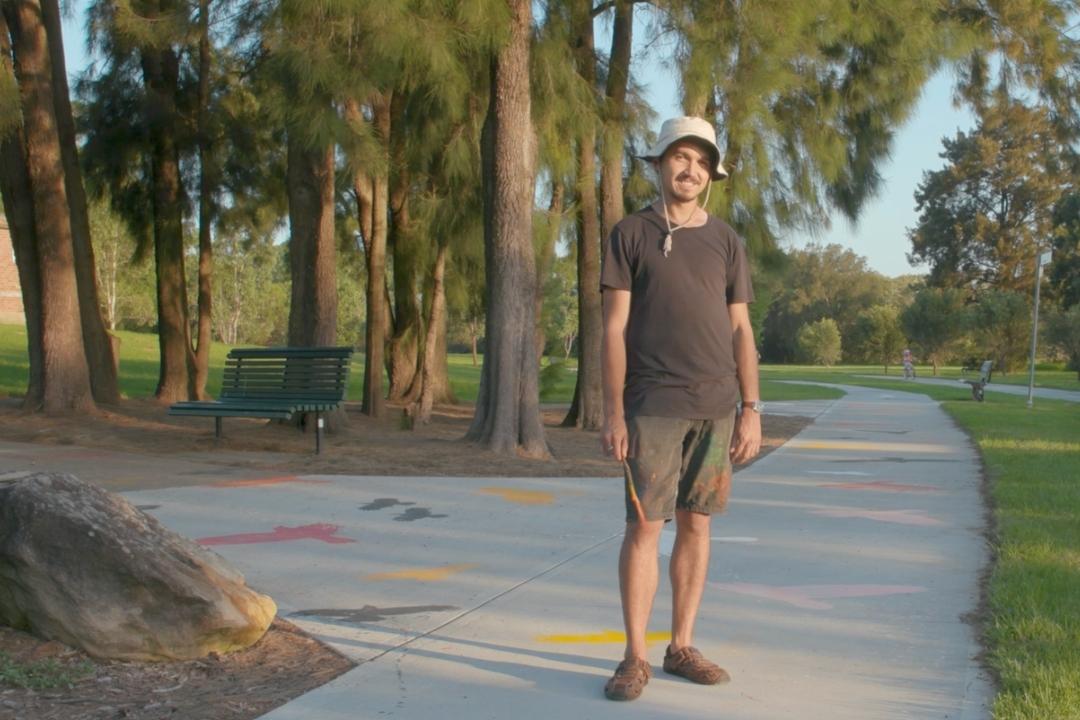 Footpath near playground - near Eric Primrose Reserve 
Artists: Jason Wing and Shae Tobin
'Wagan – Crow' is a collaborative painting by First Nations artists Shay Tobin (Darug), and Jason Wing (Biripi), presented near the playground at Eric Primrose Reserve. It combines the use of stencilled and freehand painting to show images of crows in flight, along with text depicting the Darug word, "wagan" and its English translation, "crow". This painting depicts the creation story for the crow.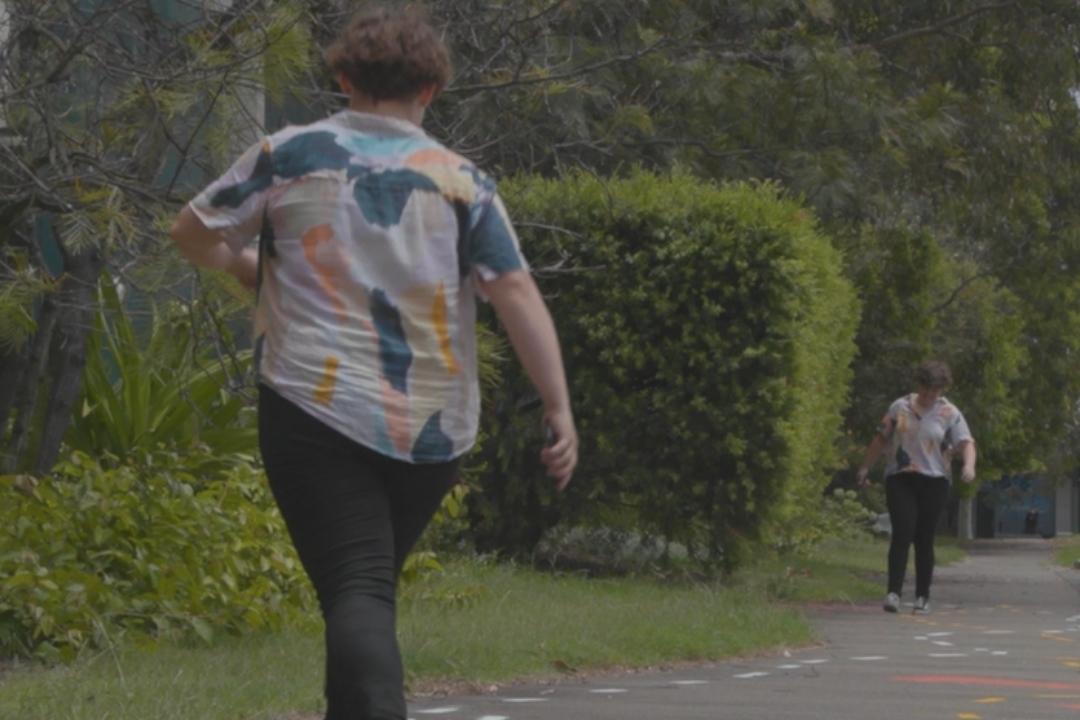 Rosella Park, Harris Park
Artist: Annie McKinnon
'Keeping Score' by artist Annie McKinnon is a colourful and energetic stencil-based painting work. Shapes spray-painted on the footpath link to short pieces of music that can be activated via a QR code. The work was initially presented at Pierre De Coubertin Park in Newington and is now restaged at Rosella Park, in Harris Park. Annie responds to the playful energy of the playgrounds, using the cracks in the footpaths as bars in her musical score.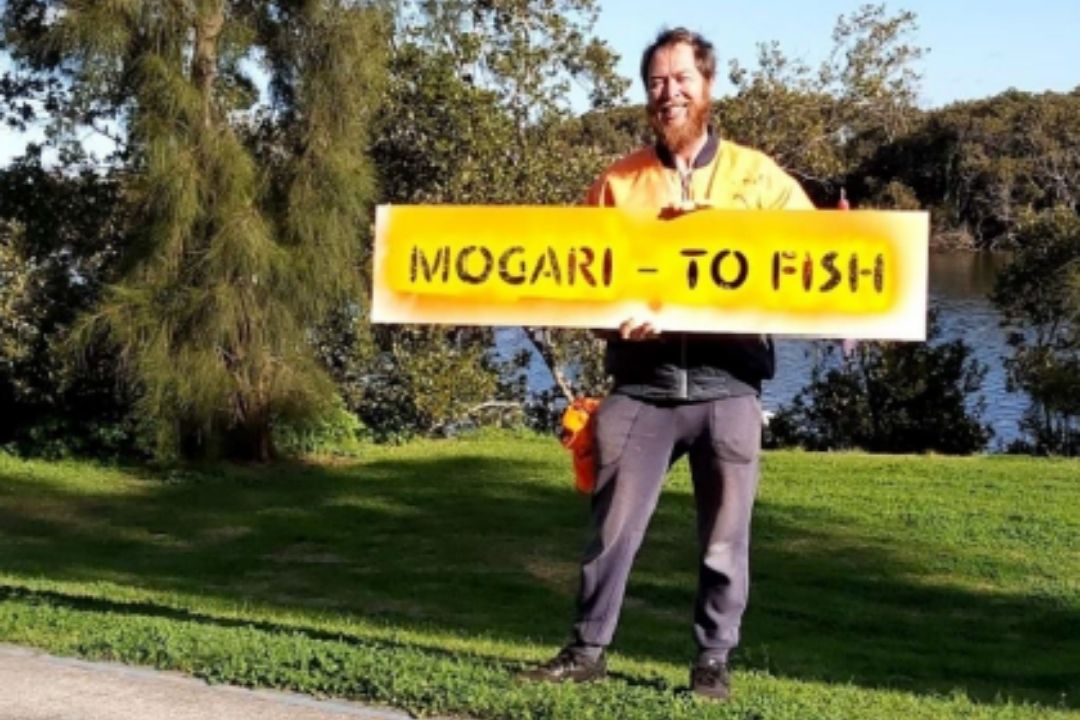 Parramatta River bike path – near Eric Primrose Reserve 
Artists - Leanne Tobin and Jason Wing
Mogari – to fish by First Nations artists Leanne Tobin and Jason Wing is a collaborative painting, relating to local aquatic wildlife and Indigenous fishing technologies. This work explores the Darug people's relationship with the Parramatta River. Parramatta River bike path near Rydalmere Wharf.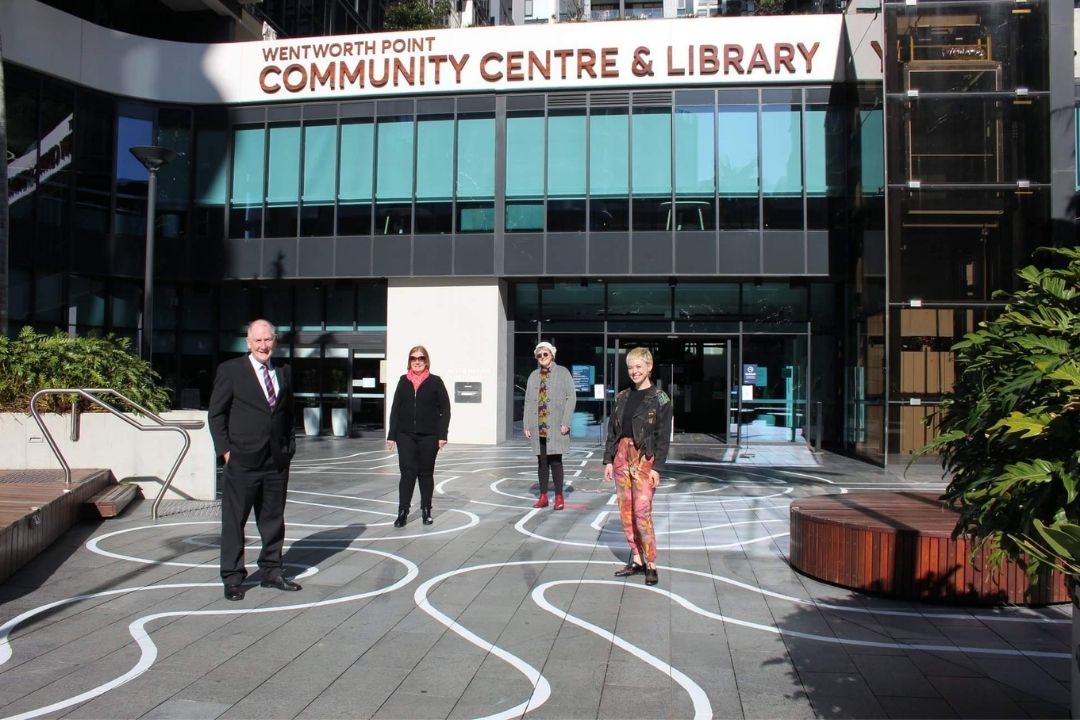 Wentworth Point Community Centre
Artist – Nadia Odlum
I'll meet you here again is a labyrinth by artist Nadia Odlum. It is inspired by the historic labyrinth at Chartres Cathedral in France and reflects on the shifts in how people move through public spaces during COVID- 19. Wentworth Point Community Centre and Library forecourt.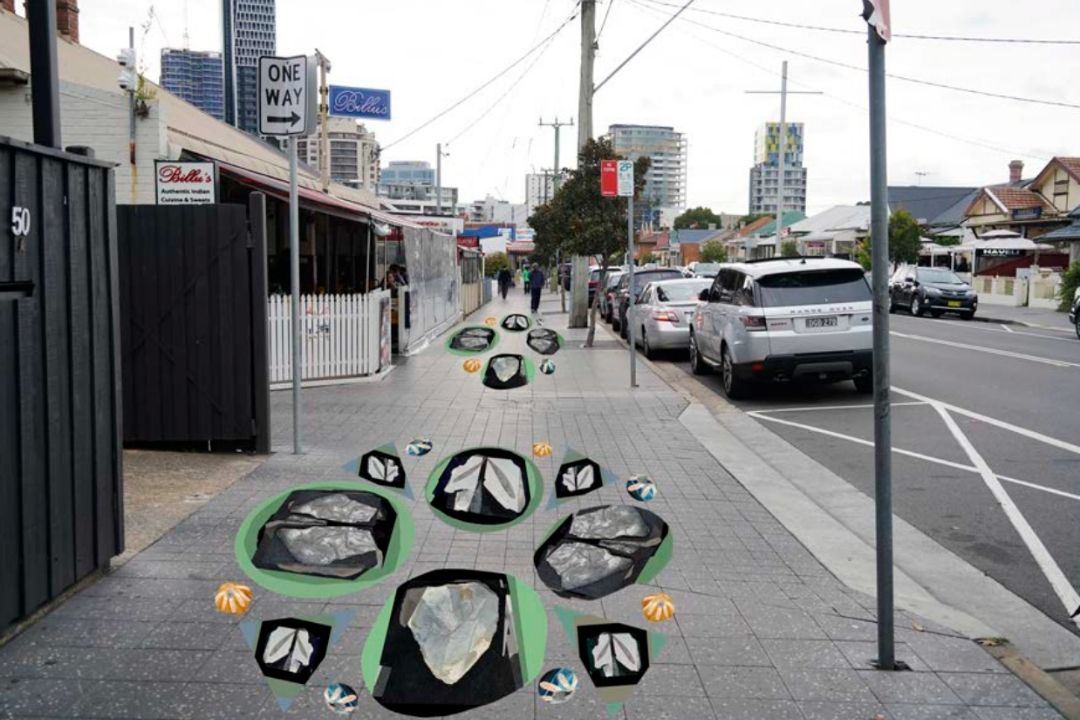 Harris Park Shops
Artist – Penelope Cain
Gondwana forest footfall by Penelope Cain explores the relationship between Australia and India by presenting a series of fossil-based images from the Permian period. Harris Park Shops, Wigram Street.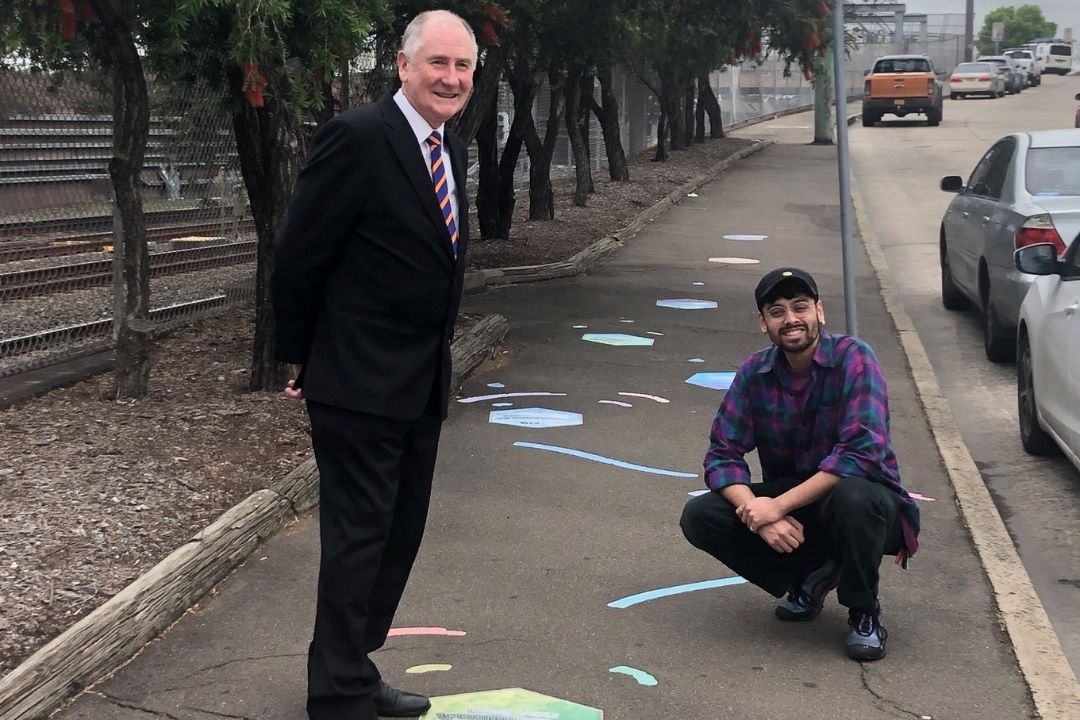 Bridge St, Granville
Artist - Kalanjay Dhir
Immersion: Granville Patch by Kalanjay Dhir is a footpath artwork that includes top-down images of a person swimming through the footpath. Token-like images with text turn this artwork into a game that directs pedestrian movement as they respond to a series of questions relating to spirituality and the environment. Bridge Street, near Granville Train Station