Try the top escape rooms in Parramatta
Escape rooms are one of the most unique and enjoyable ways to challenge yourself and your companions. Learn about the top escape rooms in Parramatta.
Challenge your senses with thrilling escape rooms in Parramatta
Escape rooms offer a unique chance to experience the thrill of action, adventure and mystery that you see in movies, but in real life! They let you dive into a new world where you and your team have the potential to be heroes and save the day (as well as yourselves).
Escape rooms have become wildly popular around the world with people of all ages. Whether you're a kid or not, they create an environment that encourages childlike curiosity. Participants experience the thrill of problem-solving and the accomplishment of winning. The allure of escape rooms is that they are fully-immersive puzzle experiences that you can complete with family, friends, and coworkers.
The best part is that you don't need to be a genius to have fun with an escape room. Escape rooms give you the chance to challenge different parts of your brain, and you can work with your team when you're stumped by a clue. You'll need to use a variety of senses – sight, hearing and touch – as well as basic maths and reasoning skills to succeed.
How do escape rooms work?
Escape rooms are spaces or buildings designed so that guests are 'trapped' in the given room for a certain amount of time - usually an hour. The guests must find clues, solve puzzles and discover hidden objects to unlock their way out of the room before the time runs out.
The room itself is often decorated to match the game's theme so you can embrace your role in the scenario. Scattered around the room are clues and puzzles that you need to solve before moving to the next phase or interacting with other players. Once solved, the next room or puzzle will come into play and continue until you have completed everything and are left celebrating your discovery or escape.
They're designed for everyone to enjoy, whether you're looking for a thrilling date night or just want to spice up your weekly game night with friends. Escape rooms vary in how complicated they are, so start by choosing the one that's right for your group.
 
Where can you find escape rooms in Parramatta?
In Parramatta, there are three different escape rooms for you to visit. Make a team with your friends, family, or work colleagues and find out if you have what it takes to escape in time!
Labyrinth Escape Rooms
Labyrinth Escape Rooms were the first real-life escape room in Parramatta. They're located just north of the Parramatta River on Victoria Road near Prince Alfred Square.
They have a variety of themed escape rooms for you to choose from that change regularly. You can visit their website to see what escape rooms are currently available and pick one that sounds exciting. Some scenarios have the goal of a classic 'whodunnit' mystery, while others require an elaborate escape from a deadly situation! Which one will you pick - and will you make it out in time?
Scram Escape Rooms on Church Street
There are two locations for Scram Escape Rooms in Parramatta. One is on Church Street, and the other is in the Parramatta Business Centre. There are different escape rooms at each location, so check out the scenarios on their website and head to the right location to complete the challenge.  
With the goal of immersing you in a world of mischief and mayhem, you're guaranteed an hour full of thrills and excitement. 
Escape rooms vary from two to eight players, so pick a scenario that fits your group size. If you have a group bigger than the recommended size, call up Scram Escape Rooms, and they can try to accommodate or book you in for multiple rooms. There are also age guides to help you figure out which ones are more family-friendly and suitable for children so everyone can enjoy the challenge.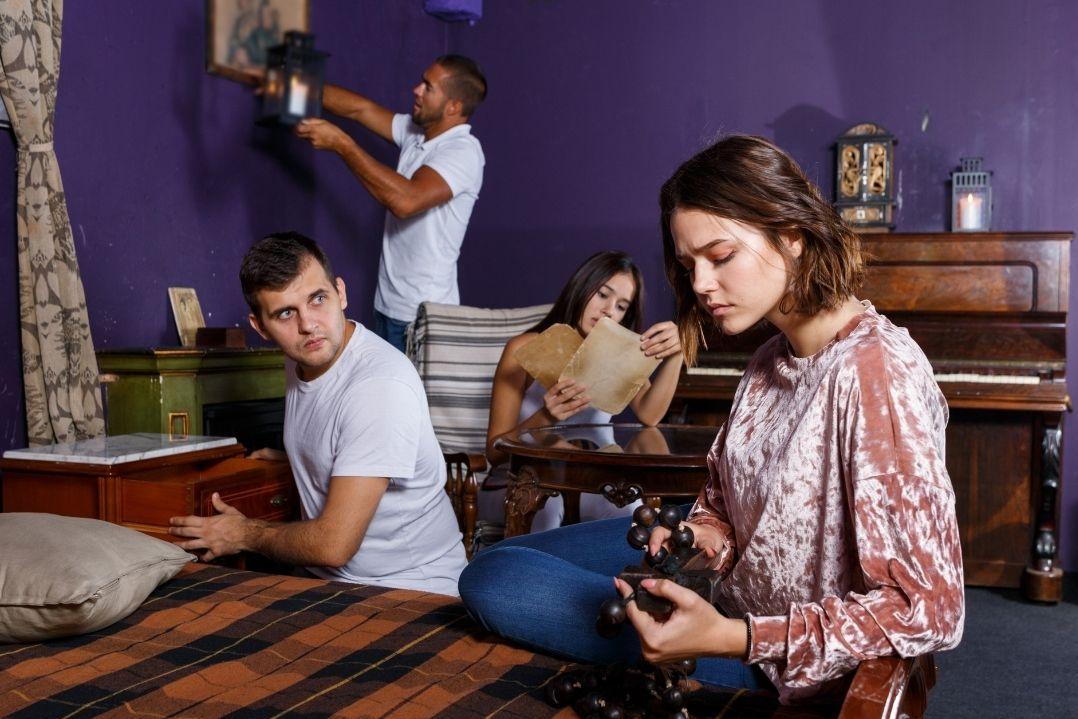 Did escaping work up an appetite?
Celebrate your successful escape with one last challenge – deciding where to eat! Parramatta is full of yummy cafes and restaurants for you to choose from. Walk down 'Eat Street' (on Church Street) to explore the different cuisines. If you're looking for a fun environment, try ALEX&Co. or Coco Cubano. Other popular places include Itihaas, Mama & Papas as well as Restaurant 317.
For dessert, you can splurge on one of the many indulgent treats at Bay Vista or taste the fantastic Italian gelato made fresh daily at Rivereno Gelato. 
Other family-friendly indoor activities
Escape rooms are only one of the many family-friendly group activities you can try in Parramatta. For more indoor activities, try Code Red Laser Tag or bounce away some restless energy at The Ultimate Family Fun Centre. 
When it's too rainy or too hot to be outside, here's a complete list of fun indoor kids activities in Parramatta.