Parramatta's rich Aboriginal history
More than 60,000 years of Indigenous history make up present day Parramatta's city and surrounds.
More than 60,000 years of Indigenous history make up present-day Parramatta's city and surrounds. So what are the stories that make Parramatta unique?
Baludarri Wetlands
The Parramatta area is a great place to explore local Aboriginal culture, and a walk through Baludarri Wetlands will offer an insight into this heritage.  They are named after Baludarri, a young Darug man, who is known – through diary entries and expedition journals – to have lived around Parramatta as a child. He was the son of Darug elder Maugoran. 
Baludarri (meaning leatherjacket, a type of fish, in Darug language) is described through the retelling of British colonists as a confident and resourceful man. The river, wetlands and surrounds were an important source of food, as well as a place for meeting and trade for the Darug nation. Baludarri was said to be a skillful fisherman, who used the Parramatta River and eastern estuaries to provide food for his community. 
As you stroll along the foreshore, notice the depictions of traditional Aboriginal foodstuffs, native plants and fishing activities underfoot. The eye-catching Jamie Eastwood designed artwork provides a snapshot of Parramatta's history before 1788 to the present day, from an Aboriginal perspective, and includes signage to explain the significance of each section.
As you continue on, take a moment to acknowledge the transformation of those riverbanks when, in 1788, Governor Arthur Phillip sailed in and declared the land suitable for settlement. In the ensuing years, the traditional custodians were forced to move downstream or most were killed in a smallpox epidemic in 1789. After the founding of the new colony, in 1791, Governor Phillip adopted the name he interpreted from the traditional custodians, and so Parramatta was born. Stop beneath the lemon-scented gums near Lennox Bridge to hear the Reconciliation Soundscape and acknowledge the traditional owners of this land, the Burramatagal of the Darug language group.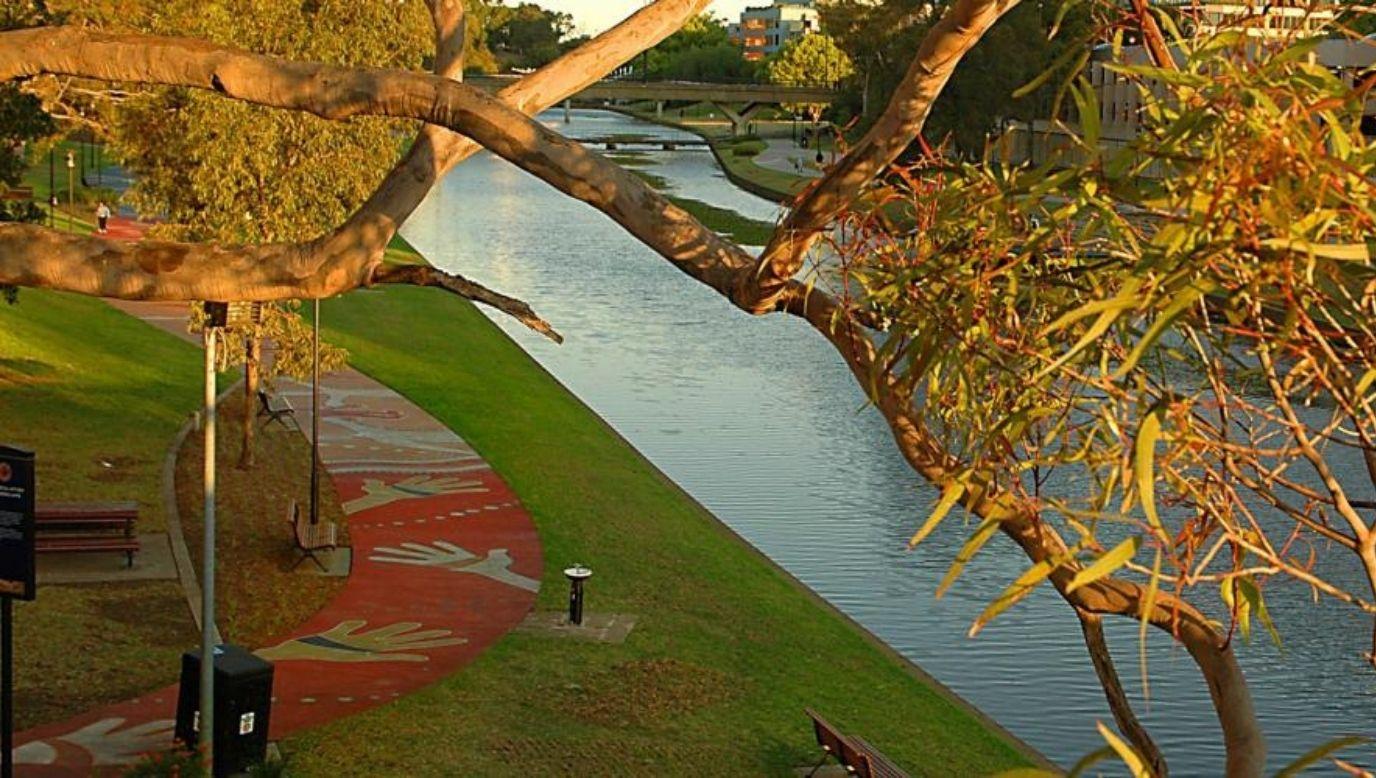 Parramatta Park
Next stop: Parramatta Park, with its strong connection to the Burramatta people. Here, you'll see pockets of open bushland that were created by the Burramatta clan using traditional 'firestick burning' methods, while the native trees, shrubs and grasses seen today were also thriving prior to European settlement. 
Along the nearby stream, middens of freshwater shells have been found, while stone axes have been uncovered in the area now known as the Crescent. This was an important trading and meeting point for clan groups in the region.
Sites significant to Indigenous history can also be found off this beaten track. The area around St John's Cathedral is where Governor Macquarie first hosted a gathering of local Aboriginal clans in 1814. This became an annual event catering to about 300 people.
Lake Parramatta
Like Parramatta Park, Lake Parramatta offers strong evidence of the Burramatta people, with its hand-stencilled paintings, cave shelters, stone flakings, scar trees and shell deposits. While visiting, take a stroll around the Arrunga Bardo Aboriginal Bush Food Garden. Follow the tracks to find out which plants were used for food, medicine, weaving or hunting. Today, all of these histories are woven into a new global city, though Parramatta is not leaving its past behind.