Boomtown Summit insights into transport as the enabler of opportunity in Parramatta
The annual Boomtown Summit held late last year, highlighted the importance of rail infrastructure in the growth of Western Sydney and specifically Parramatta. The Summit held at Sydney Olympic Park and run by the Western Sydney Leadership Dialogue (WSLD), shone a light on different modes of rail transport.
The annual Boomtown Summit held late last year, highlighted the importance of rail infrastructure in the growth of Western Sydney and specifically Parramatta. The Summit held at Sydney Olympic Park and run by the Western Sydney Leadership Dialogue (WSLD), shone a light on different modes of rail transport.
In its seventh year, the Summit brought together leaders and experts in government, development, construction, design, planning, transport, housing, services, energy and sustainability. Guest speakers included the Premier of NSW Dominic Perrottet, Lord Mayor Councillor Donna Davis, Christopher Brown, Sir David Higgins, Geoff Roberts AM, The Hon Natalie Ward MLC, and many others in the property & infrastructure space.
Rail transport, which is playing a major role in the development of Parramatta, was discussed by multiple speakers at the event, including the potential high-speed rail, the currently under-construction Metro West, and the soon-to-open Parramatta Light Rail.
Many were also quick to point out the catalysing impact of infrastructure and how it improves the lives of those who use it. Chief Commissioner of the Greater Cities Commission, Geoff Roberts said, "It's about the impact on the people, the jobs, the housing, the connectivity, that that creates. That's the contribution that an organisation like [the Greater Cities Commission] can participate in, in collaboration [with others]."
In the Commission's Greater Sydney Regional Plan (GSRP) released in 2018, it recognised that the "Central River City will grow substantially capitalising on its location close to the geographic centre of Greater Sydney. Unprecedented public and private investment is contributing to new transport and other infrastructure leading to a major transformation of the Central River City."
High-speed rail can be part of Parramatta's future
In his address at The Summit about the potential of high-speed rail in Sydney, Sir David Higgins, Chair of Gatwick Airport spoke about high-speed rail being more viable for trips of around two hours, and that the capital cost of building it is never recovered. He did however say that high-speed rail can make money once it is operational, and it made sense for shorter trips like those from the Central Coast or Newcastle, to Sydney to be viable.
In a Sydney Morning Herald article earlier this year, Parramatta was singled out as being a potential major hub for dedicated fast rail lines connecting Sydney to Newcastle, Wollongong and the state's west as part of long-term plans to boost public transport links.
Geoff Roberts, the Chief Commissioner of the Greater Cities Commission said he looked forward to working with the Federal Government on the Gosford to the Central River City alignment saying that we need to make projects like this work for human beings as well as being engineeringly efficient. 
High-speed rail may be a means of connecting Parramatta with other cities as part of the Six Cities vision which includes Lower Hunter and Greater Newcastle City, Central Coast City, Illawarra-Shoalhaven City, Western Parkland City, Central River City, and Eastern Harbour City and aims to accelerate the economic growth of the region.  
 
The Metro as an enabler of opportunity
As part of the panel discussing "Rail as an enabler of opportunity", Peter Regan, Chief Executive, Sydney Metro said his organisation is starting to move from one that is focused on building, to operating rail systems and with this comes a great responsibility on creating locales, rather than just connecting them.
"The vision is for us to focus on the place outcomes, so it's not just connecting places but creating great places. There is a huge opportunity here, right along Metro West but also Parramatta, the CBD and everything in between. The focus for us is on creating an incredibly positive experience, not just on the trains, but the precincts we can enable and activate," he said.
Dr Liz Develin, CEO of Sydney Olympic Park Authority (SOPA) described the Sydney Metro West as a game-changer for development activity in Sydney Olympic Park.
"Sydney Olympic Park is a relatively quiet place when there are not huge events on and all the master-planning that has been done over all the years has waited for the big transport infrastructure piece, and the development industry to get serious because they were waiting for the transport.
"We've got grand plans with the Metro coming and finally this place will be able to see its vision of both being an amazing events precinct, but somewhere people live," she said.
 
Parramatta Light Rail
Deputy Secretary, Infrastructure and Place, Transport for NSW, Camilla Drover as part of a panel 'looking beyond the megaprojects' spoke about "Putting communities at the centre and then building infrastructure and connectivity around that.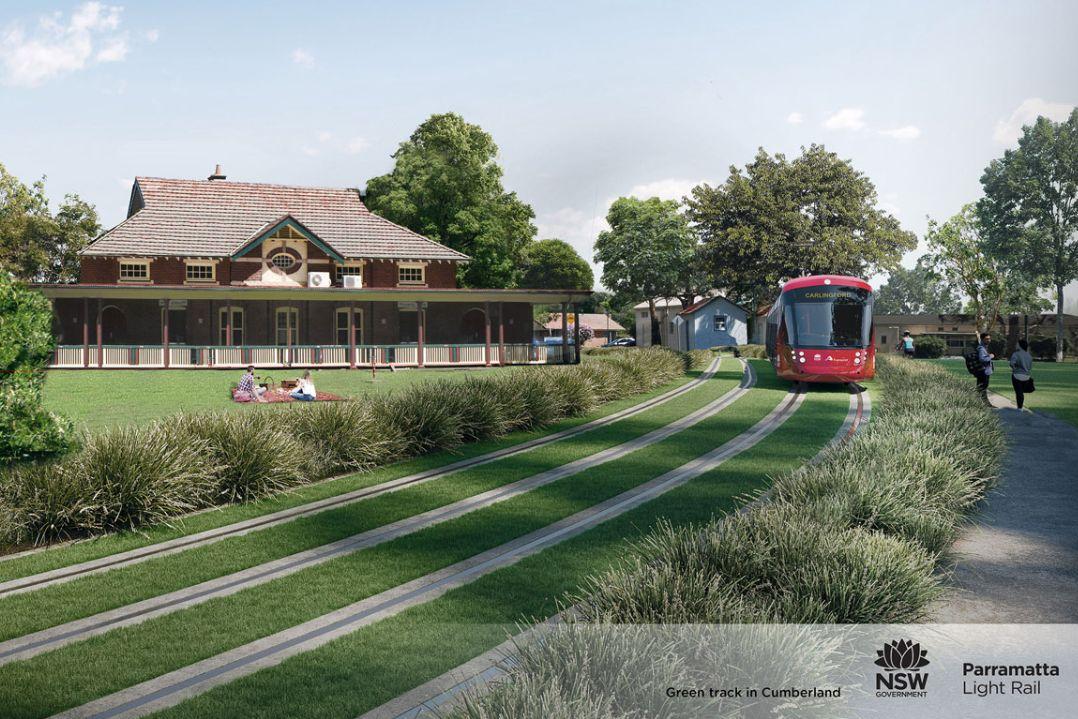 "The Parramatta Light Rail recently received the highest rating ever from the Sustainability Council for the green-track, so great visual outcome, great amenity, but great greenhouse outcome for Parramatta," she added. 
Camilla Drover also spoke about the legacy of skills training on the project.
"We're seeing about 70 per cent of our workforce in Western Sydney coming from Western Sydney and that's really important. We're also seeing lots of learning workers, so Parramatta Light Rail, for example, 20 per cent of the workforce is under 25, that's leaving that wonderful legacy of skills training and development," she added. 
 
Sydney's Central River City
Sitting in the geographical heart of Greater Sydney is Parramatta, a City representing a cross-section of economic activity, cultural diversity and stirring opportunity. The backbone of this great City is its accessible transport infrastructure, connecting Parramatta to five major transport hubs across the region.
Parramatta is within a 30-minute reach of more than two million people across Sydney. The recently upgraded Parramatta Transport Interchange links train and bus connections under one roof, and with the future Parramatta Light Rail and Metro West only a short walk away, commuters can expect a seamless travel experience. 
With ongoing infrastructure planned this year and beyond, transport development will be the critical link that continues to connect Parramatta to the Greater Sydney region, achieving our 30-minute City vision for years to come.