How to make the most of game day at Parramatta
With three sports stadiums regularly bringing thousands of fans to this thriving city of sport, here's how to make the most of game day in Parramatta.
With three sports stadiums within 10 kilometres of each other, it's easy to find yourself in Parramatta on game day. First up is the CommBank Stadium next to Parramatta Park. On the other side of the city, in Sydney Olympic Park, you will find the GIANTS Stadium at the Sydney Showgrounds. Right next to that is the massive Stadium Australia, previously named ANZ Stadium. 
With so many teams playing at these grounds, Rugby League fans are spoilt for choice. There's always going to be an exciting match, whether you cheer for the Parramatta Eels or not. Even if your team isn't from the area, there's a good chance they'll visit at least one of these stadiums throughout the season. 
Parramatta is truly a city of sport, with dedicated fans ready to cheer on their teams any day of the week. In fact, you'll know when it's game day because of all the fan gear and team colours people wear with pride. Whether you're a local or visitor, here are a few ways to make the most of game day.
CommBank Stadium
Watching a game at CommBank Stadium is a unique experience, no matter how many games you've watched live. With the steepest grandstands in Australia, CommBank Stadium allows you and 30,000 other fans to be part of the game no matter where you sit. 
When you're looking to make the most out of game day, it's got to involve some food and drinks. Book a table for dinner before or after the game at any of the local eateries around town. For some good pub food that's less than a 10-minute walk to the stadium, head on over to Club Parramatta. If you're willing to venture a little farther away, check out the top 10 places to eat and drink on game days. Don't forget that while you can fine dine around Parramatta, you can also grab a classic footy pie at the stadium.
If you're from out of town or want to turn this into a staycation, you can stay the night at a nearby hotel. There are national and international chains such as Novotel, Parkroyal, Meriton Suites and SKYE Suites with excellent accommodation. Go to our accommodation webpage for a list of options. 
To access the private suites or Triton Lounge, visit the CommBank Stadium's official hospitality webpage.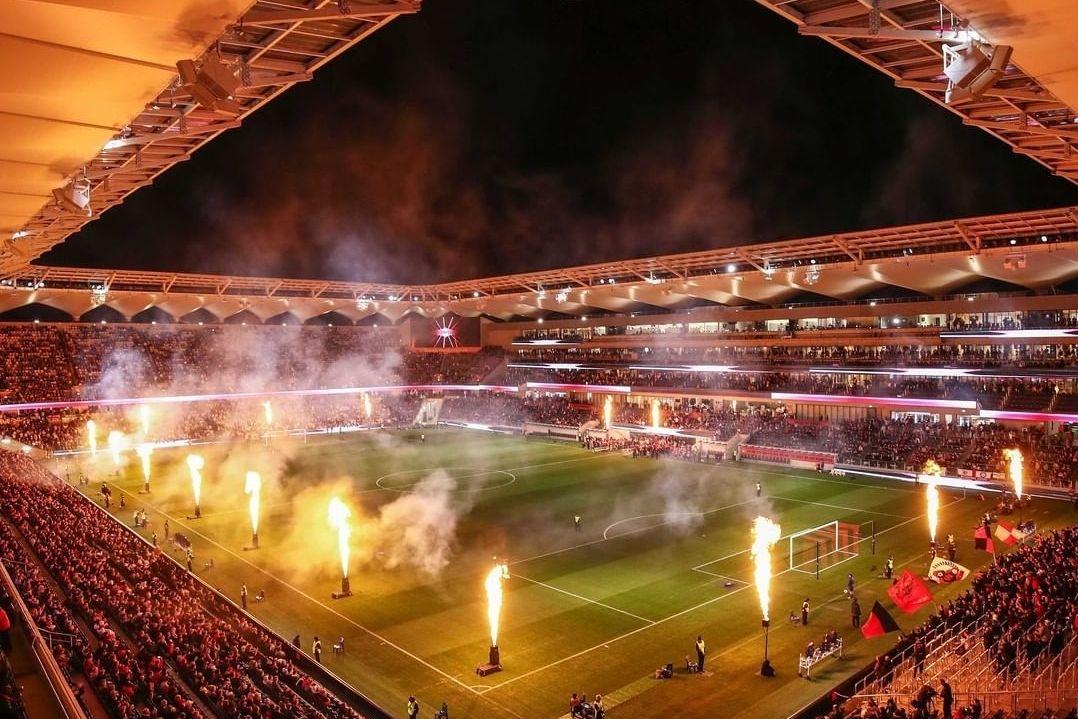 Sydney Showground aka GWS GIANTS Stadium
The GIANTS Stadium is located very close to Stadium Australia (ANZ Stadium) within Sydney Olympic Park. It's home to both the AFL GIANTS and Sydney Thunder cricket teams. If it looks familiar, you might have visited it while attending a music festival or Australia's largest and most iconic annual event: the Sydney Royal Easter Show. 
You will find many tempting restaurants, cafés and bars within easy walking distance from the stadium. The Sydney Showground has a list of dining and entertainment options to spark some ideas. If there's somewhere you're keen to go, be sure to make a reservation beforehand. Most places can get booked out quickly on game day! If there's bad weather or you'd prefer to stay at the venue, here is a list of food outlets at the stadium.  
Hotels are as close as a five-minute walk away from the stadium, such as Novotel, Pullman and Ibis. These are all located within Sydney Olympic Park, which means you can spend more time enjoying the game and less time fighting the traffic when you're ready for bed. 
Accor Stadium 
Accor Stadium is the largest sports stadium in New South Wales and the second-largest stadium in Australia. Its capacity is 83,500 people! It has gone by a few names since it broke ground in 1996 for the 2000 Sydney Olympics, such as Olympic Stadium, Telstra Stadium and more recently ANZ Stadium. 
It is home to many popular sports teams such as the Canterbury Bulldogs, South Sydney Rabbitohs and the Socceroos. Because it hosts NSW's largest events across sports, music, and entertainment, it's easy to find yourself coming back again and again.
Luckily, there are quite a few places to eat, so you can pick a new place to try every time you come to the stadium. As Accor Stadium is located in Sydney Olympic Park, you can take advantage of all the amenities nearby. From food to accommodation, everything is just a short stroll away. 
Some of the most popular restaurants include Hi Thai, Piccolo Roma, and The Burger & Salad Haus. Whether you're looking to celebrate a win or ease the pain of defeat, there are bars nearby too. The Bacar Bar, Mexica Cocktail Bar and The Brewery are all within a five-minute walk from the stadium.
For more information, visit Accor Stadium's official hospitality webpage.