Parramatta bushwalks to get away from the crowds
There are lesser-known walks in Parramatta which can be done to get out and about and stay away from crowds.
Be surprised with lesser known Parramatta Bushwalks
Get out in the fresh air and take an invigorating walk on some of these lesser-known, quieter paths around the Parramatta greater region. You'll be surprised by meandering creeks, waterfalls and majestic Red River and Sydney Blue Gums. In these pockets of bushland native birds, reptiles and mammals have refuge from the people around them, so are great spaces to enjoy the tranquillity of our native environment.
North Rocks Dam in Bidjigal Reserve
Distance: 2.2km
Time: 1 hr

North Rocks Dam is an absolute surprise at the end of a gorgeous bushwalk that has you meandering alongside the creek bed all the way to this graffiti-covered hidden suburban gem. Accessible from Loyalty Road, North Rocks or Ventura Road, Northmead, the North Rocks Dam in Bidjigal Reserve is actually a flood retarding wall that saves the residents of Northmead from being washed away when heavy rains pour downstream from North Rocks.

The track is unsealed but wide and flat and plenty of room to move aside for social distancing. Small bridge crossings and noises of animals scurrying make you think you are in a forest as far from suburbia as you can be. There is no need to rush back as large logs and rocks make for great snacking spots and a lot can be taught to kids on this walk that they can't learn in a classroom.
Water Dragon Way
Distance: 2.3km
Time: 1hr
Water Dragon Way runs between Moxhams Road, Northmead and Goodin Road, Winston Hills along the eastern side of Quarry Branch Creek. The track is a mixture of natural earth and rocky path including some rock and wooden stairs. Walking from south to north is a consistent incline. The way is called Water Dragon for a reason – but there's nothing to be afraid of about these serenely paddling lizards!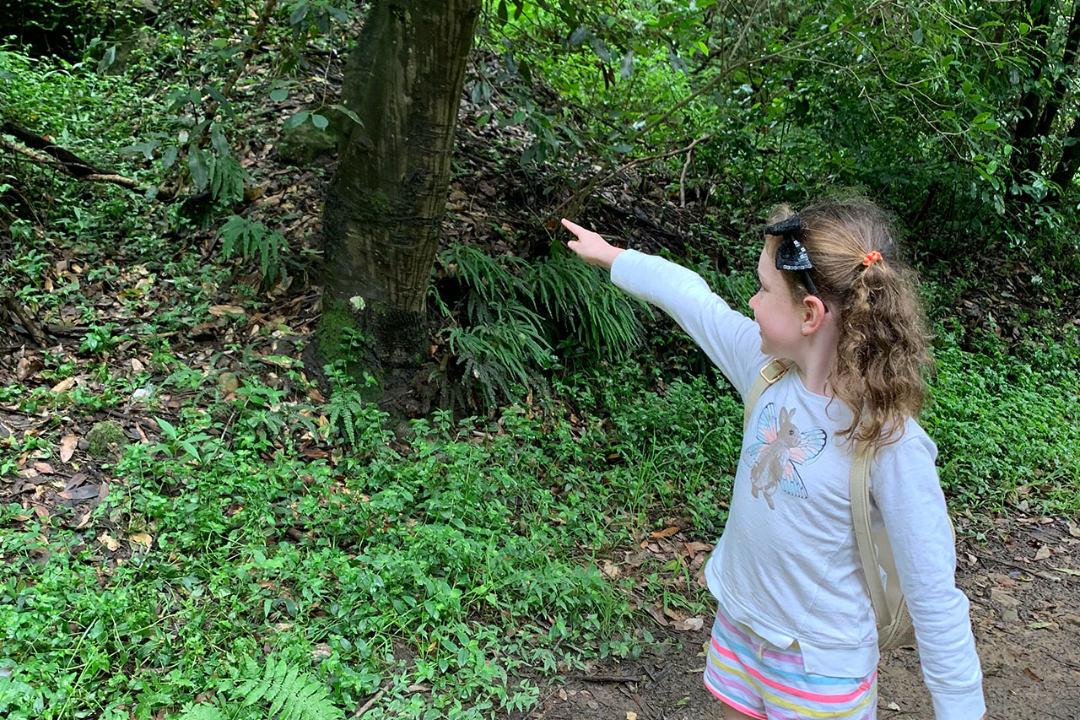 Murri-Yanna Track
Distance: 3.7km
Time: 3hrs
Murri-Yanna Track travels from The Hills Council above the M2 to Spears Road, North Rocks. The surface is a mixture of uneven earth track with rock and wooden steps. This is a pleasant forested route that makes for easy trail-running and the opportunity to see North Rocks Dam. At the right time of year flannel flowers and native orchids can be spotted.
Terry's Creek Walk, Epping
Distance: 2km
Time: 1hr
With one entrance from the car park of Epping Aquatic Centre, Terry's Creek Walk is an rainforest inspired walk with surprises all along the bush track, including historic facts and markers about how the land would once have been used by indigenous Australians. This is a good path for sharing with children, some creek crossings where "oops my foot fell in," moments tend to happen with kids and features Sydney Blue Gum forest, which is a critically endangered form of woodland – rare in the Sydney basin. Keep your eyes out for satin bower birds – or their nests full of the blue bits and pieces the males collect to attract a mate! And with a bonus waterfall at the end of a lovely walk, this is truly the perfect outdoor classroom.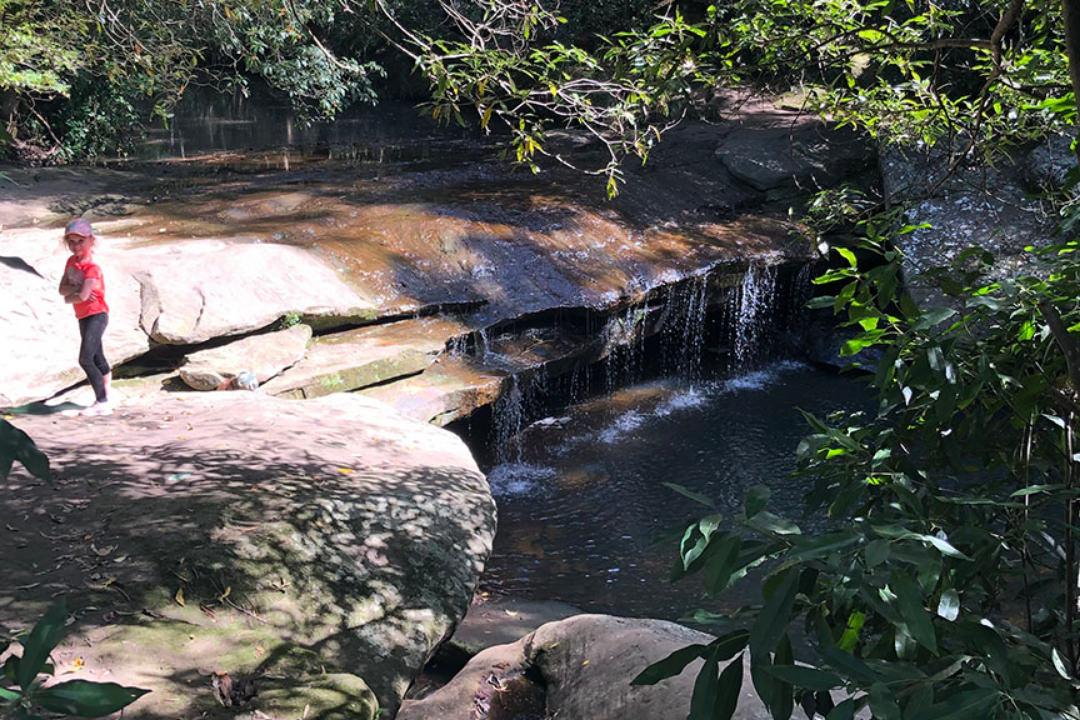 The Great West Walk
Distance: 65km
Time: One very long day
If you don't have work to worry about, you can walk as far as you like on The Great West Walk. From Parramatta Park you can walk the whole 65 kilometres to the foot of the Blue Mountains if you fancy!
Combine some of Australia's oldest architecture in Parramatta Park's 19th century Old Government House and 18th century Old Dairy Cottage with the protected Cumberland Plain woodland, local river systems and leafy public parkland.
The epic walk was a result of work between City of Parramatta, Blacktown City, Penrith City, NSW National Parks and Wildlife Service and Western Sydney Parklands Trust.