Best Pies in Parramatta
Parramatta is home to many artisan bakeries, pastry shops, and cafés, serving the best pies you'll ever try. Find out where you can grab a bite here.
14th March is International Pi Day, and what better way to celebrate than with a slice of delicious and freshly baked pie? Parramatta is home to many artisan bakeries, all serving delectable and flavourful pies. Whether you're after a savory pie for a quick lunch or a sweet fruity pie for a late-night dessert, you can find something you'll enjoy at one of the top bakeries in Parramatta.
Bourke Street Bakery
Bourke Street Bakery is your friendly neighbourhood bakery, known for its delectable bites handcrafted by well-honed artisanal skills and old-fashioned baking techniques. They serve a number of savory pies catered to the Aussie taste, such as Beef Brisket, Red Wine & Mushroom Pie, Vegan Vege Curry Pie, and Chicken, Sweet Potato, Pea & Lemon Pickle Pie.
If you're looking for something a little sweeter, Bourke Street Bakery also serves a wide selection of handmade tarts, including Chocolate Ganache tarts, Ginger Brule tarts, and Lemon Curl tarts.
Bourke Street Bakery has locations all over Sydney, including a store on Parramatta's dedicated foodie road, Church St.
Threefold Pastry
Located in Parramatta Square, Threefold Pastry is a local favourite bringing next-level indulgence to Parramatta. Serving a creative variety of sweet and savory pastries (including pies!), Threefold Pastry is a must-visit for International Pi Day. 
Threefold Pastry serves three Australian pie classics - Beef Pie (beef, red wine, tomato, bay leaf, and rosemary), Chicken Pie (chicken, peperonata, roasted tomatoes, marjoram), and Mixed Vegetable Pie (onions, tomatoes, beans, peas, peppers, cauliflowers, carrots, potato, broccoli). Takeaway friendly and gourmet, you can't go wrong with a slice of pie from Threefold Pastry.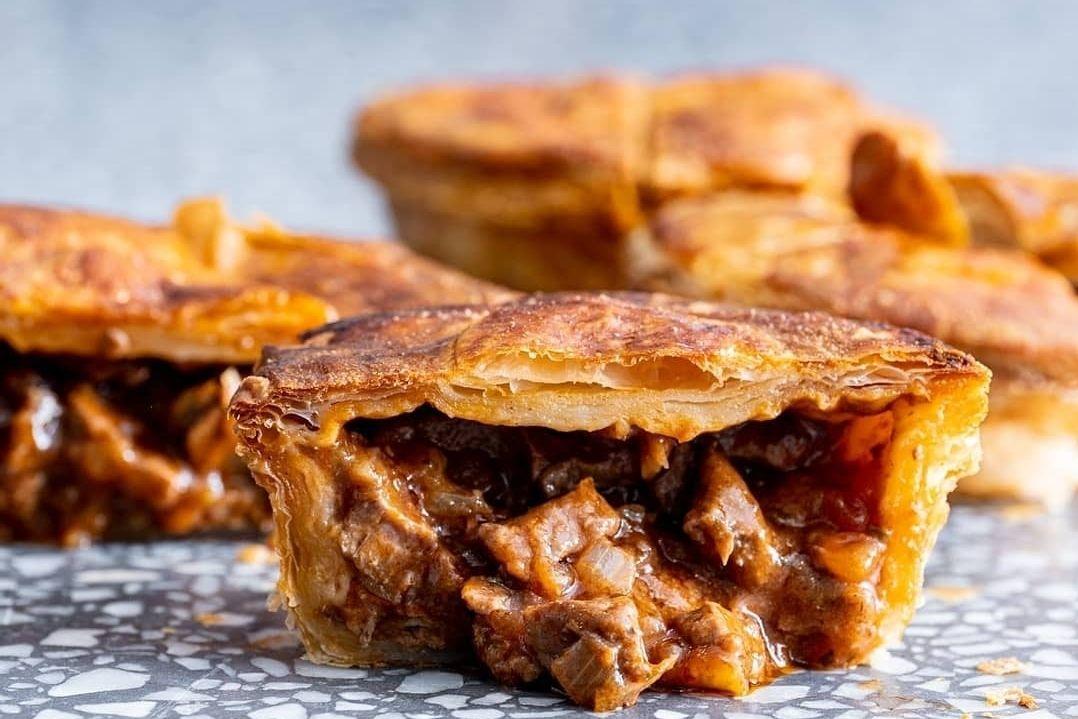 Watch Your Fingers Patissiere
Watch Your Fingers Patisserie is the place to be for lunch on International Pi Day. The pastry shop sells award-winning, gourmet pies, often served with rich Soltura coffee and a dessert. Pies at Watch Your Fingers Patisserie are always incredibly quick to sell, so it is best to call and make an order the morning of so that the cafe chefs can prepare a piping hot pie just for you by lunch.
Watch Your Fingers Patisserie is located in Constitution Hill, perfect for locals looking to spend their lunchtime in a quiet and relaxing space. 
Imperial Gluten Free Bakery
As their name implies, all the baked goods seen on Imperial Gluten Free Bakery's menu are delicious and gluten-free. From breads to cakes to pizza bases, Imperial Gluten Free Bakery makes and sells all types of gluten-free baked goods so that everyone can enjoy their favourite pastries and pies. Located on Victoria Road in Rydalmere, Imperial Gluten Free Bakery is one of the largest gluten-free bakeries across all of Australia.
Imperial Gluten Free Bakery is best known for their Veggie Quiche and Ham and Cheese Quiche. They also sell various sweet tarts such as Cocktail Lemon tarts and Passionfruit Coconut tarts. Whether you want something sweet or savory, Imperial Gluten Free Bakery has got you covered.
Nhuy Kings Hot Bread
Nhuy Kings Hot Bread is known around Ermington, Parramatta, to have the best handmade hot pies at affordable prices. For $2 to $4, you can purchase a variety of freshly made savory pies, such as Meat Pie, Steak & Mushroom Pie, Steak & Curry Pie, Cheese & Bacon Pie, and Potato Pie.
You can enjoy a warm lunch outside with the shop's comfortable outdoor seating or grab a slice of pie for takeaway during a busy workday. No matter what kind of pie you're craving, Nhuy Kings Hot Bread has something for you.
Bagel Bakery Cafe
Bagel Bakery Cafe sells a wide range of cakes, breads, and pastries for both savory meals and sweet tooths fancying a filling dessert. Take-away friendly and located in Winston Hills, you can find all sorts of pies at Bagel Bakery Cafe to your liking, including Beef Pies, Curry Pies, Beef Mushroom Pies, and Chicken & Veggie Pies. You can even purchase a family pie if you're feeling extra hungry or would like to share the warm goodness.
Jenny's Bakery Cafe
Celebrate International Pi Day with a scrumptious, handmade pie from Jenny's Bakery Cafe. Located conveniently in Carlingford, Jenny's Bakery Cafe is the place to be if you're looking for savory meat, vegetarian, halal, and vegan pies.
Enjoy a meal in the warm and casual atmosphere at Jenny's Bakery Cafe. Not only can you enjoy a quick and delicious lunch, but you can also purchase a couple of dessert pastries for later.
Shepherd's Artisan Bakehouse
Shepherd's Artisan Bakehouse is the perfect place to stop for a delicious pie. Take a trip around the world to Francewith their Chicken Fricassee pie, or to the beautiful Med for their Meditteranean Roasted Vegetable pie (also available in GF). Kick back at home with their original Oz Premium Beef, or enjoy UK favourite, the classic Shepherd's pie with a creamy potato mash topping. Whatever you choose, you're bound to become an instant addict of the rich, chunky inside and the crispy, buttery outside of Shepherd's Artisan Bakehouse's pies!