TDMN: Tracking the path to success
A start up business based in Parramatta is set to revolutionise the way shoppers access trolleys at supermarkets and other stores across the globe.
TDMN: Tracking the path to success
A start up business based in Parramatta is set to revolutionise the way shoppers access trolleys at supermarkets and other stores across the globe.
Domenic Ammendolia, founder of TDMN, has a background in retail and his family has always run businesses, so he's always coming up with ideas to improve the industry, but it wasn't until his Eureka moment around trolley tracking, that he started to seriously think about launching a start-up.
That Eureka moment happened when he saw a tired, frustrated parent, at the supermarket with young children in tow, trying to get a trolley. It required a coin – but who carries coins these days? 
And so Domenic's idea was born: a QR code-based system called sMart Lock that allows people to unlock a trolley using their phone.
"These days almost 90 percent of transactions are contactless. It's rare to have a coin. But people always have their phone," he says. When customers scan the QR code using an app, a deposit is automatically taken from their nominated account, and automatically returned when the trolley comes back. "This is the first use I know of where scanning a QR code causes something tangible to happen. It doesn't just take you to a website. A trolley is unlocked."
The system also helps stop trolley dumping, a major problem for retailers.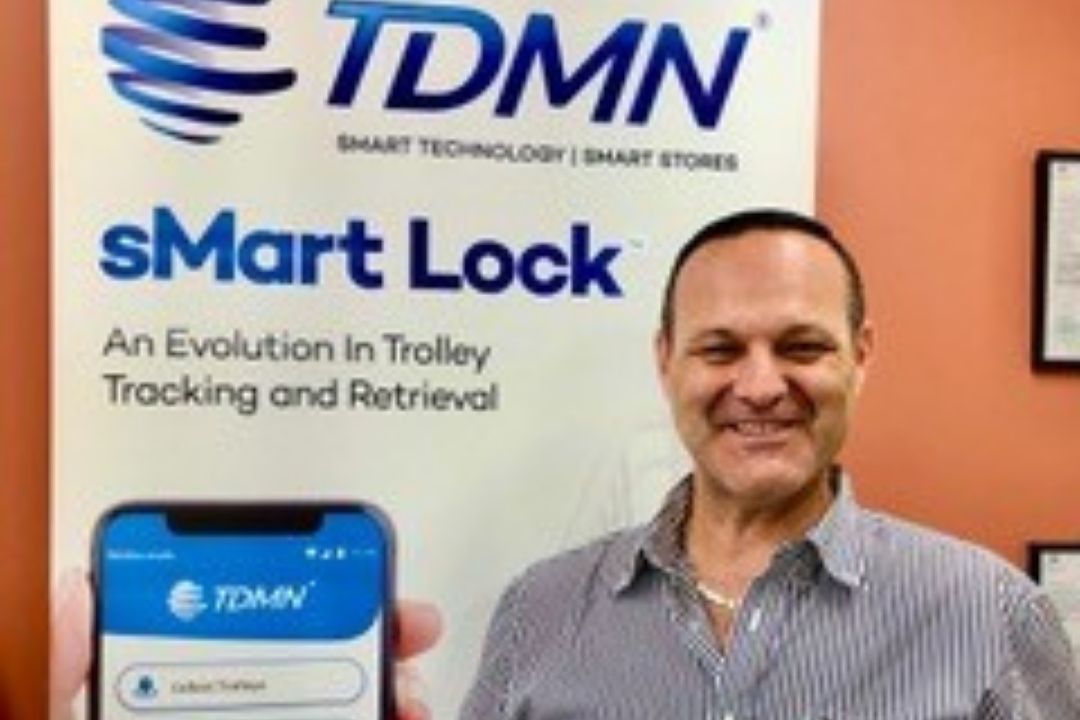 "I had more than 20 years in senior management in retail so I knew keeping track of trolleys was a real headache. They get taken off site and dumped or damaged, create nuisance pollution, and need replacement. With our system, trolleys can be easily tracked and collected."
Domenic says that while the retail industry found trolley management difficult, there was no incentive for the trolley manufacturers to add tracking systems, because lost or damaged trolleys are good for their business. "The cost to retailers of replacing lost or stolen trolleys was over $100 million last year," he says.
The system is generating lots of interest in Australia. We are currently preparing to go live with Harris Farm at Cammeray and there is significant interest from retailers across the globe. sMart Lock recently received a prestigious Good Design Award for innovation and design excellence.
 
Connection vital
He chose to base himself in Parramatta because it has a vibrant central business district, is affordable, is well-connected to every part of Sydney via the M4, M5 and Windsor Road. He adds that Parramatta is becoming the place for forward thinking businesses to be.
"Lots of businesses are moving into the area. Parramatta Square is massive."
Domenic says being part of a network with other start ups is also incredibly valuable, and Parramatta has a strong start up community. "This is a group of people that has the ability to listen and really understand what you are dealing with, and the opportunity to discuss things with people who have been through the same thing is just great."
Finding the funds
Domenic has accessed a number of government grants, federal and state, to move his business forward. He says it's worth checking government business websites, which offer a wealth of information not only about the range of grants programs on offer but also other support initiatives and rebates. "Governments and councils do a lot to support start-ups. Just reading through their websites for businesses can be really illuminating."
With the tracking system ticking boxes for businesses and consumers, Domenic is setting himself big goals.
"I'd say I had been successful if 80 per cent of all trolley coin locks were converted to smart locks within five years."
 
Advice for would-be start-ups
Domenic says anyone thinking about launching a start up should ensure their businesses is properly structured from the get-go, so that when funding opportunities arise there's no scrambling to get things in order. He suggests engaging a solicitor early on and getting contracts and non-disclosure agreements in place right at the start.
"Your IP is everything. Protect it at all costs," he says.
He also says to be realistic about the cost of starting a business. "Whatever you think something will cost, add 30 per cent."
Finally, he recommends engaging with people who can offer sound counsel. "Form an advisory board. Everyone knows someone who is good at something."