Unique dishes only found in Parramatta
Parramatta's restaurant scene has more cuisines and styles of cooking than a series of Chef's Table. Some of the restaurants are so unique or so niche they serve recipes no other restaurants in Sydney do.
Only a rare restaurant can proudly claim they've got recipe found nowhere else in Sydney. In Parramatta, some of those venues are helmed by inventive chefs looking to make their mark on the Sydney scene, others are so committed to tradition they put in extra effort to give their community those dishes which take just a bit more time, effort or expertise to make. Here's a mix of both. 
The Truly One Offs
Lilymu's Larb Sando and pretty much everything else on the menu
Lilymu could take up a number of spots on this list. Brendan Fong and Bass Kumponthanatat's menu mixes southern Chinese recipes with a Thai flavour profile, well that's the professional description anyway, it's really a playful mix of whatever Fong and Kumponthanatat can think of – miso-eggplant transformed with Thai flavour, spring rolls stuffed with mozzarella and rendang (a generational recipe from Fong's wife's family no less), roast duck stuffed with Thai sausage, and larb sandwiches. All of those, plus a decent chunk from rest of the menu are recipes found nowhere else in Sydney. Take the larb 'sando' as an example. It's Japanese-style soft white bread on the outside, and on the inside cabbage, a mix of fresh herbs and the show piece: a hunk of crumbed chicken that's been brined overnight, fried, and seasoned with dehydrated larb spice. Simultaneously soft, crunchy, herbal, and savoury. Simply, a very fun thing to eat. As Fong says, there's enough crispy skin, fried chicken and basil chicken, more people should celebrate larb. 
Parramatta Square, 03/153 Macquarie St, Parramatta | 7809 4952 | Facebook | Instagram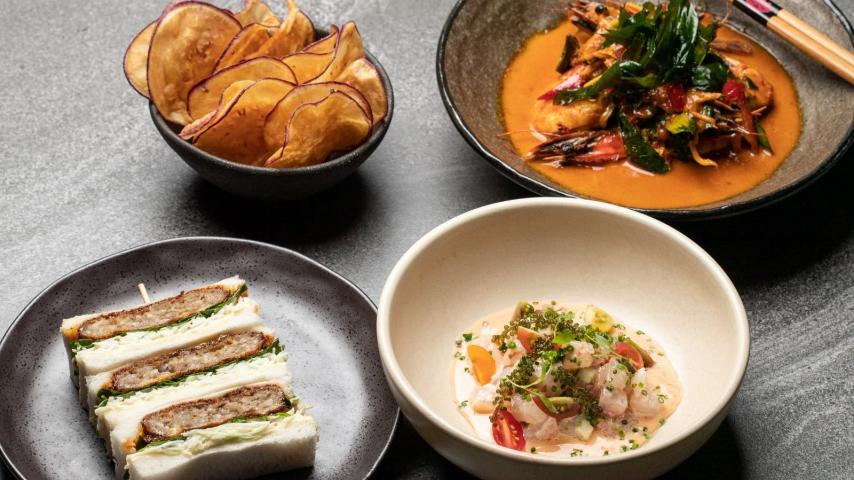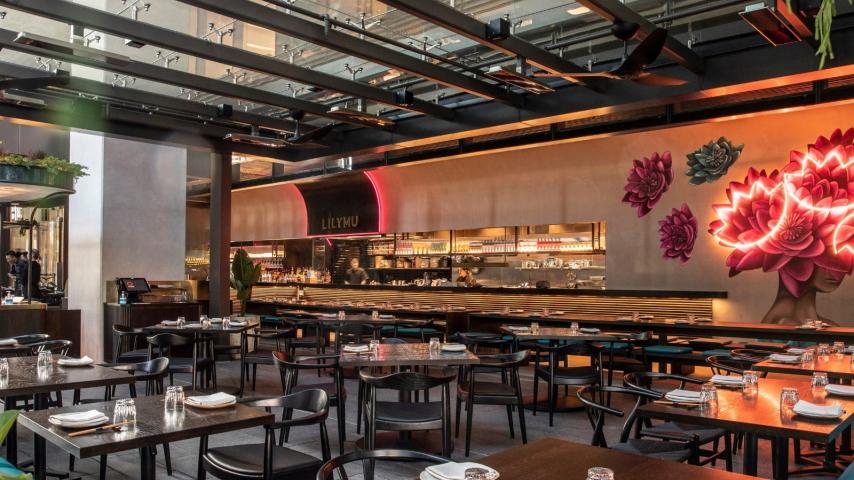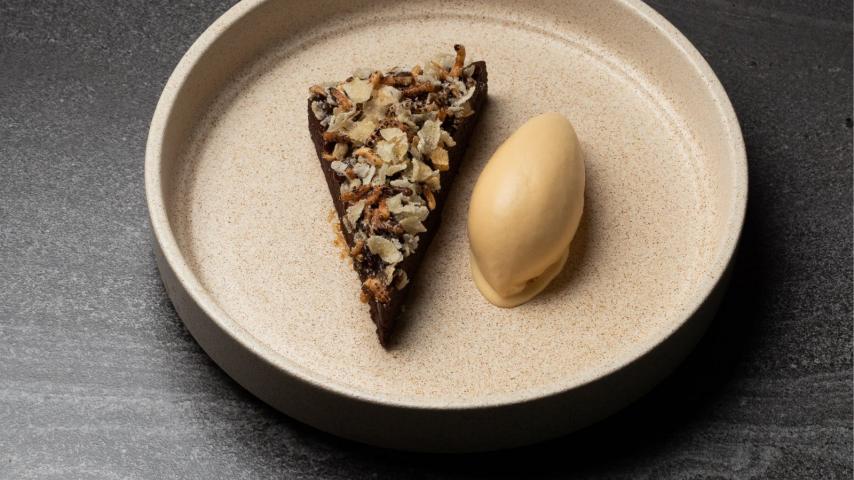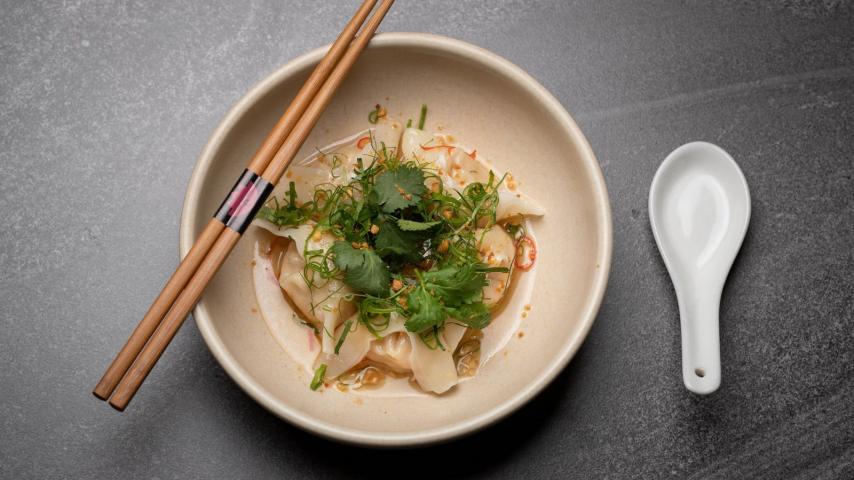 Estelita's desserts and embutido (like a Filipino meatloaf) 
Let's be frank, meatloaf isn't the sexiest looking food around. Embutido, the Filipino version is no different, a literal log of pork meat that's long and lumpy from being stuffed with all kinds of things – in this case carrots, sultanas and a dose of fish sauce. But eat it and you won't care about how sexy it looks, instead you'll probably wonder why Estelita's is the only Filipino restaurant that does it. The answer to that question is Christmas. In the Philippines it's a special dish reserved for a fiesta, any special occasion but Christmas in particular. It's usually steamed so it's moist, and a bit fluffy but Estelita's is a bit different. It's got a bronzed outer layer like a good loaf of bread. 
That's not the only unique order at Estelita's either. The dessert menu is full of rare dishes, including another that can't be found anywhere else in Sydney, sapin-sapin, which is a layered glutinous rice cake topped with bread-crumb like bits of fried coconut curds. 
319 Church St, Parramatta | 0428 452 396 | Facebook | Instagram
Lao de lao's ob gai
Usually, the typical idea of a Thai curry shown in Australia is a coconutty, rich and often sweet recipe named after the colour of the paste it's made from, but that doesn't even scratch the surface of the Thai and Lao cuisine. Ob gai is an example, it's a chicken curry made with a light broth packed with herbs and aromatics. Instead of coconutty and rich it's light and aromatic, instead of sweet it's herbal. 
In the villages of northeast Thailand and Lao, it would be made by stuffing the insides of a bamboo shoot with chicken or fish and all the distinct aromatics from the region – makrut lime leaves, galangal, lemongrass, chilli and fresh herbs – and then cooking that bamboo over an open fire. There's a number of reasons why that's difficult in Sydney but Visiene Khammountry, the owner of Lao der Lao keeps the tradition alive by making everything from scratch with herbs from the garden that surrounds the restaurant. 
526A Church St, North Parramatta | 0449 530 195 | Facebook
Sort of One Offs
Mazaidar's nehari and paya with added brain
Pakistan has a tradition of hearty, meaty breakfast stews designed to power an adult through a day of hard labour. Nehari (a bone marrow enriched slow cooked beef, lamb or goat stew) is one, and paya (slow-cooked, spiced trotters) is another. Both are found in many traditional Pakistani restaurants in Sydney, but Mazaidar gets a mention for serving their versions with a +$2 optional extra of stewed sheep brains. For those who haven't tried, brain is like soft tofu but a little more savoury. 
515 Church St, North Parramatta | 9630 0319 | Facebook | Instagram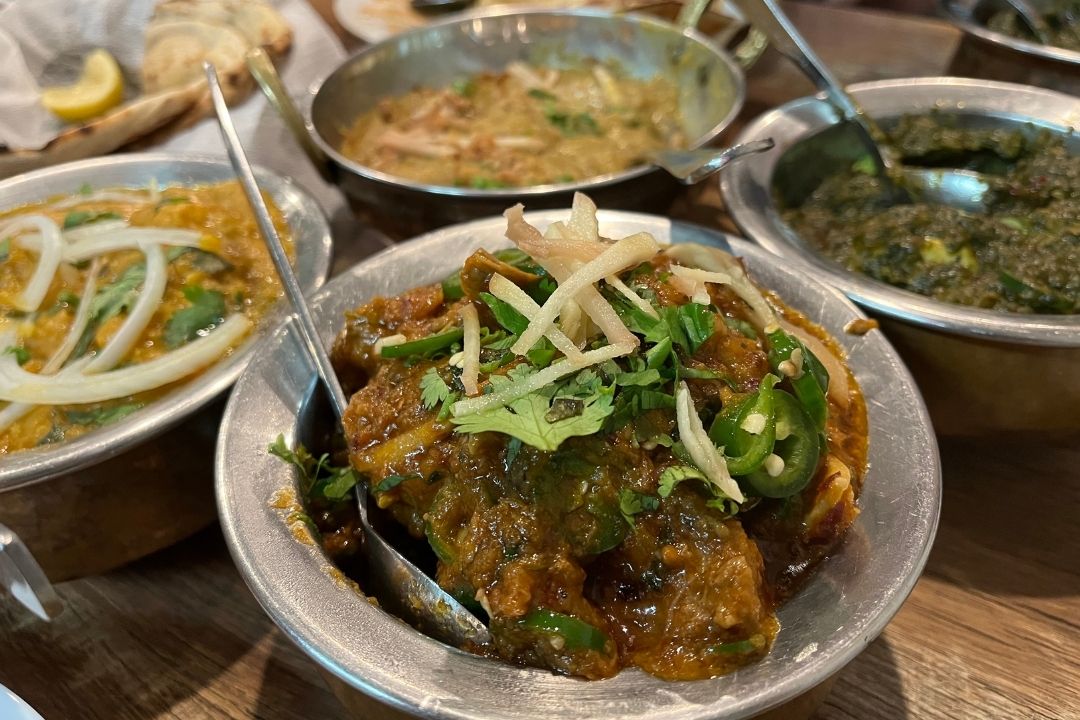 Temasek's ikan pangang 
Ikan panggang is Malay for roast fish and it includes a number of styles, fish and toppings, but the Temasek recipe refers to a specific regional style of sambal lathered fish roasted in a banana leaf. The only thing excluding Temasek from the above list is the fact one other restaurant in Sydney does it too, Campie's Hokkein Kia. To get it from Temasek, make sure to order ahead, they need to get a whole fish secured from their supplier before you come.
71 George St, Parramatta | 9633 9926 | Facebook | Instagram
Taj Indian Sweets' gujiya and ghever
Imagine an empanada or a curry puff but instead of a savoury filling it's jammed with a sweet, creamy mix of semolina, milk, and nuts - that's gujiya. Ghever is an intricate disc-shaped sweet both syrupy and crunchy. Ghever is only available at Taj Indian Sweets' in August for the Teej Festival, while guijya is available most of the time. Ramesh Sharma tells us no other sweet shop sells them, but these things are hard to fact check. 
91 Wigram St, Harris Park | 9633 2118 | Facebook
Sun Ming, the specials scrawled across the wall
Like Temasek, Sun Ming is an institution that's been delivering the goods to Parramatta locals for decades. As there are many southern Chinese restaurants with ridiculously long menus, it's hard to check which dish is unique to Sun Ming but the specials scrawled on the wall are a good bet. 
145-149 Church St, Parramatta | 9689 2178
Circa Espresso, probably something
One of Parramatta's best cafes, if not the best, but hard to include on lists like this because their menu changes with the season. As it takes in inspiration from so many places (Middle Eastern traditions and the modern Australian café scene particularly), the menu often includes unique dishes you wouldn't find anywhere else.